Writing / Research Studio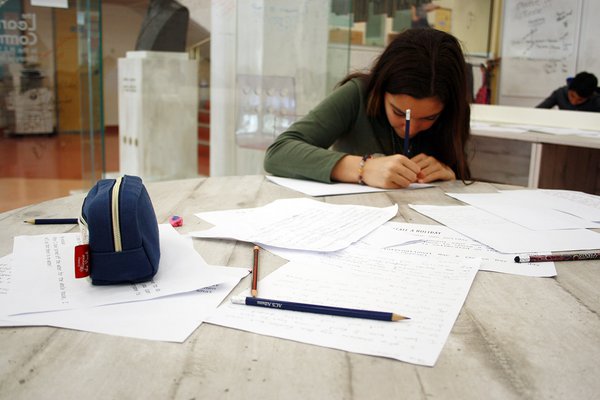 The Writing/Research Studio helps students realize their full potential as young writers and researchers. We cover many different types of writing which students are expected to master throughout Middle and High School, including but not limited to: academic essays, research papers, reflections, UCAS personal statements, Common App college essays, motivation letters, CVs as well as various kinds of creative writing (poetry, drama, fiction, film scripts). We firmly believe that writing is always a form of self-exploration, self-expression, and self-definition, further empowering students to become architects of their own learning and leadership identity.
The Writing/Research Studio is located on the 3rd floor of the Sabbagh Library. It is open Monday, Tuesday, Thursday, and Friday: 9am-5pm, Wednesday: 9am-4pm. Please contact Ms. Anna Kompothekra, the Writing/Research Studio Coordinator.
Members of the Writing/Research Team include:
Mr. Michael Januzzi, Writing/Research Coordinator, januzzim@acs.gr
Mr. Teo Ananiades, Writing/Research Studio Assistant and Permanent Substitute Teacher, ananiadest@acs.gr
Ms. Helen Seretis, Writing/Research Studio Assistant, seretish@acs.gr
The Writing/Research Studio offers support to all Middle School, Academy students & Upper Elementary School students.
The Writing/ Research Studio offers services such as:
Seminars/Workshops on the following topics: Research, MLA/ APA/ Chicago Citation Styles, Writing Mechanics and Grammar, Creative Writing, Writing Styles for Different Media
Assistance with the writing component of the College/University Application Process: US College Essay, UCAS Personal Statement, Motivation Letter, and the various Writing Supplements
Assistance with research projects
Support with standardized testing (SAT, ACT, IELTS, TOEFL)
Independent study with personalized support
Preparation for tests/ exams/ retakes
Writing resources (textbooks/notes/online reinforcement activities)
Study groups
All faculty and students are automatically enrolled in the Writing/Research Studio Moodle Shell, which contains a plethora of writing resources.
Students may schedule an appointment to visit the Writing/Research Studio if there is a need for a one-on-one session.
Teachers may send students to the Writing/Research Studio during teaching hours only after a prior communication with Ms. Kompothekra, to ensure the availability of the studio and the presence of a faculty member.