Divisions
The key element in academics and curriculum development of ACS Athens is its Academic Divisions structure. This organization allows the school to coordinate and optimize curriculum development and delivery across the schools, benefiting the students through the grades and various levels available for each subjects. Division Chairs also are responsible for budgetary recommendations of projects and coordination of faculty allocation among courses and grades.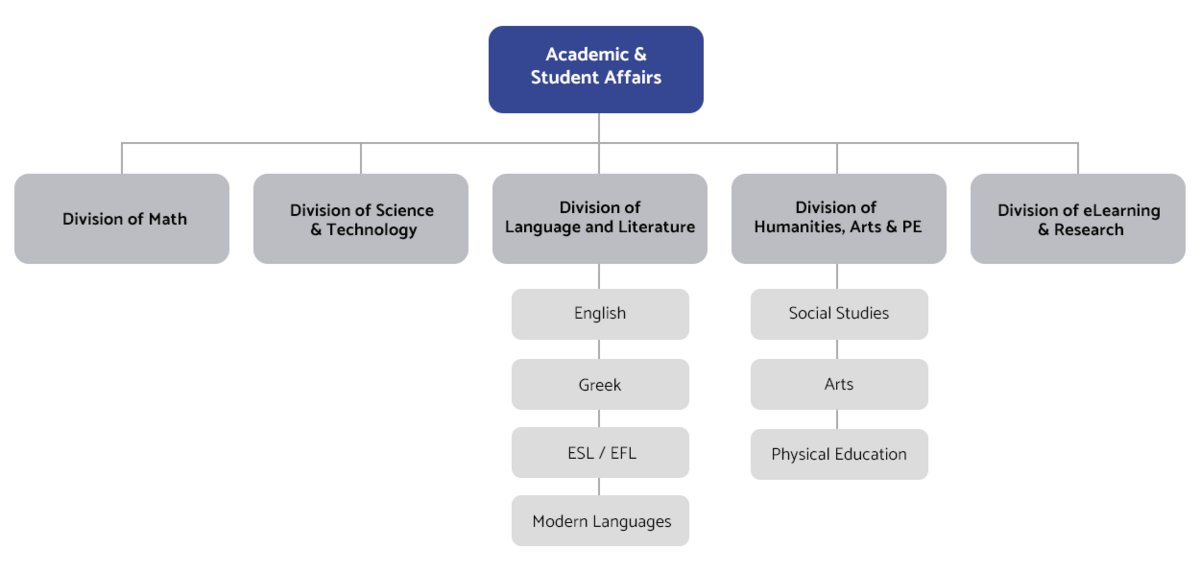 Mathematics

Dr. Andreas Tsokos, Division Chair Mathematics
Dr. Andreas Tsokos is a Science Teacher and Division Chair of Mathematics. Dr. Tsokos was born in Cyprus. He attended the University of Birmingham in the U.K with a full scholarship and was awarded a double Honors degree in Physics and Mathematics. At Birmingham, he received the Nora Calderwood Prize for highest achievement in the final examinations. He obtained a Master of Science and a Ph.D. in Physics from Cornell University in the USA.
Dr. Tsokos has served as Assistant, Deputy and Chief Examiner for IB Physics. He is the author of Physics for the IB Diploma, Series and Differential Equations, IB Physics in a nutshelland about 20 research papers dealing, mainly, with Quantum Chromodynamics. In one paper he showed how the high temperature limit of chiral gauge theories leads to the appearance of topological mass terms for the associated gauge fields. His main interests are Physics, Mathematics and the music of Johann Sebastian Bach.
He has been a faculty of ACS Athens since 1995.
email: tsokosa@acs.gr
Science & Technology

Dr. Likourgos Hristakos, Division Chair, Science & Technology
Dr.Hristakos completed his B.Sc. in physics at the University of Lancaster in the UK. He then continued his graduate studies in experimental physics (M.S) at the University of New Hampshire in the USA. Following this he successfully defended his Ph.D. in experimental low temperature physics at the University of Bayreuth in Germany. Dr. Hristakos worked as a post-doc research scientist at the Centre des etudes atomiques in Saclay-France and at the University of Tuebingen in Germany.
He has taught IB physics at ACS for a decade and he has also worked as an AP physics teacher at the American School of Dubai. He is currently the Division Chair of Science & Technology at ACS Athens.
email: hristakosl@acs.gr
Humanities, Arts & PE

Amalia Zavacopoulou, Division Chair HAPE
Ms. Zavacopoulou was born in London, but was raised in Athens and attended a British international school. She holds a Bachelor of Arts degree in European Social and Political Studies, a four-year course with majors in History, French and Italian from University College London, and a Masters degree in Journalism from University of Westminster, London.
A qualified secondary school teacher, she taught French and Spanish in an inner city London school through Teach First, a ground-breaking graduate training program that combines two years teaching in challenging London schools with business and leadership training. She also worked as a substitute teacher in over 20 different London schools in long-term and short- term placements for a further two years.
She joined the ACS Athens team in 2010 and started working in the Writing Center, where she helped and advised students on a variety of written assignments. She has since been involved in many aspects of school life: she co-coaches the ACS Athens Academy debate team, has participated in the Mentorship Program and has co-presented a workshop at the NESA Conference. In 2016 she co-presented a paper at the ICODL Conference and also co- authored an article, "Humanities Program: An Innovative Classic," that was published in the book Revolutionizing K - 12 Blended Learning Through the i2Flex Classroom Model. This year she is team-teaching Humanities, and Grade 9 Europe and the World, as well as serving as Division Chair for Humanities, Arts and Physical Education.
email: zavacopouloua@acs.gr

Sophia Stella Soseilos, Coordinator Art Department
Sophia Stella Soseilos was born in Bonn, Germany, did her High school years in Nicosia, Cyprus and completed her Bachelor's degree in Fine Arts Education from at the University of Witwatersrand, in Johannesburg, South Africa. After that, she enrolled in the Drama Department of the same University doing Theater Design. Since then she has worked in South Africa, Greece and Cyprus as an Artist, Art Teacher, Interior Designer and Stage Designer for numerous theaters and TV set productions.
She is, at the same time, a qualified and experienced Art Teacher with international teaching experience both as a private and school teacher. Simultaneously Ms. Soseilos is a writer. Her short stories are published in two books. She holds a Master's degree in Creative writing from the University of Western Macedonia, in Greece.
Ms. Soseilos is in ACS Athens since 2012. In addition to teaching, she is the Visual and Performing Arts Coordinator.
email: soseiloss@acs.gr
Angelos Dimitropoulos, Coordinator PE Dept.
Mr. Dimitropoulos is a Physical Education Teacher and Coordinator for Physical Education. Mr. Dimitropoulos was raised in Athens, Greece. He earned his Bachelor Degree in Physical Education from the University of Physical Education and Sport Science in Athens and then received his Masters Degree in Sports Management, through a program ran by the International Olympic Committee, from University of Lyon, France.
Mr. Dimitropoulos has worked as the Baseball Competition Manager for the Athens 2004 Olympic Games and has also observed the Sydney 2000 Olympic Games. He has published a book on baseball.
He recently authored a chapter in the 2016 publication "Revolutionizing K-12 Blended Learning through i2Flex Classroom Mode".
He has also worked as a basketball coach in Greek Professional League and has attended a number of basketball clinics in Greece as well as in the States.
Mr. Dimitropoulos is a certified lifeguard and an emergency responder (CPR/First Aid for adult/child/infant).
email: dimitropoulosa@acs.gr