Divisions
The key element in academics and curriculum development of ACS Athens is its Academic Divisions and school-wide Coordinators structure. This organization allows the school to coordinate and optimize curriculum development and delivery across the schools, benefiting the students through the grades and various levels available for each subjects. Division Chairs are also responsible for budgetary recommendations of projects and coordination of faculty allocation among courses and grades.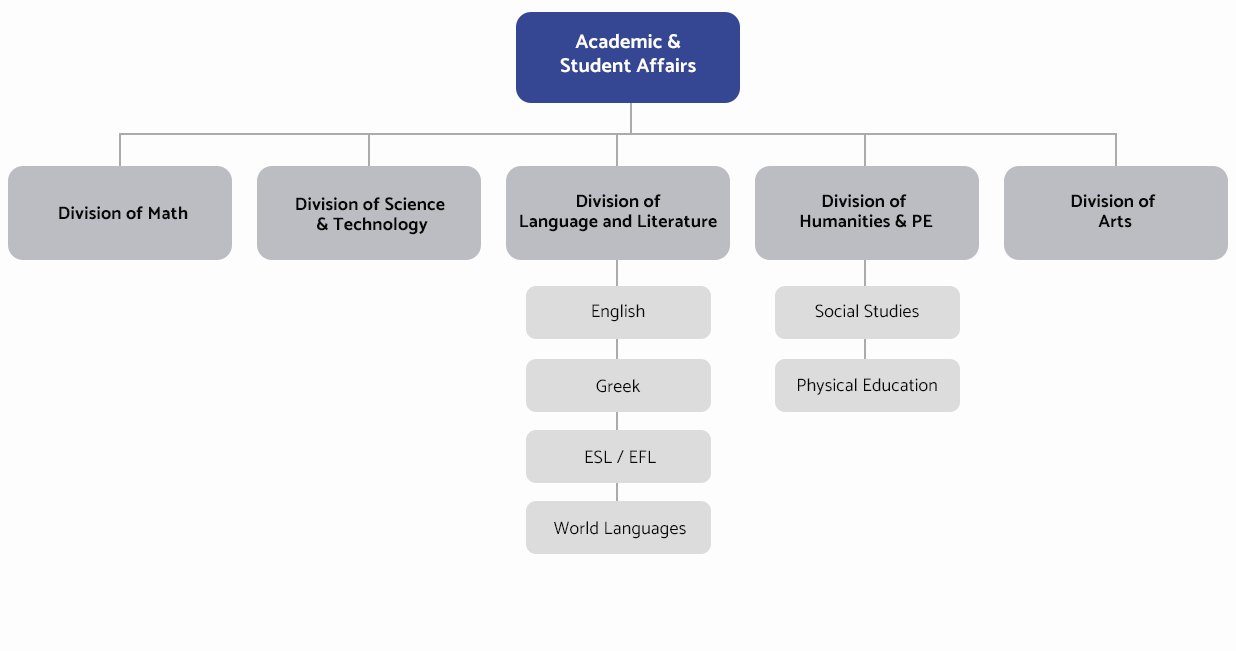 Mathematics

Falidas, Maria, Division Chair of Mathematics
Ms. Falidas earned her Bachelor of Science in Computer Science and Applied Mathematics from the City University of New York at Queens College. She earned her Master's degree in Mathematics from the City University of New York at Queens College and her Master's degree in Mathematics Education from the City University of New York at Hunter College.
Ms. Falidas holds a permanent New York State teaching license and she has worked in New York City public and private schools. In addition, she worked as a lecturer for the Mathematics Department at LaGuardia Community College in New York. Ms. Falidas has been a teacher of Mathematics at ACS Athens since 2007.
At ACS Athens she is a member of the National Honors Society committee and an advisor for the Mathematics Literature Club. She is currently a member of Thales and Friends.
email: falidasm@acs.gr
Science & Technology

Hristakos, Likourgos, Division Chair, Science & Technology
Dr. Hristakos completed his B.Sc. in physics at the University of Lancaster in the UK. He then continued his graduate studies in experimental physics (M.S) at the University of New Hampshire in the USA. Following this he successfully defended his Ph.D. in experimental low temperature physics at the University of Bayreuth in Germany. Dr. Hristakos worked as a post-doc research scientist at the Centre des etudes atomiques in Saclay-France and at the University of Tuebingen in Germany.
He has taught IB physics at ACS for a decade and he has also worked as an AP physics teacher at the American School of Dubai. He is currently the Division Chair of Science & Technology at ACS Athens.
email: hristakosl@acs.gr
Newton, Tabitha, Faculty, K-6 Science Coordinator
Ms. Newton received a double bachelor's degree in Elementary and Early Childhood Education from the University of Alabama at Birmingham, and a Masters in Interdisciplinary Studies from the State University of New York at Buffalo. Her thesis project studied the effect of interdisciplinary studies on students' learning. Ms. Newton was raised in Greenville, Alabama where she graduated Salutatorian of her high school class.
Ms. Newton taught first grade in Greenville, Alabama and third grade at an international school in Shanghai, China where she was the team leader for two years. During her time in China, Ms. Newton also led professional development seminars for her colleagues in curriculum, assessment, and integrating centers in the classroom. Ms. Newton also taught second grade in Valencia, Venezuela. There she helped recreate the second grade curriculum. While at ACS, Ms. Newton has worked with the second and third grades. She has helped revise the Dogs in Learning Curriculum, and held a student-led fundraiser for Puerto Rico as a design time project. She is also one of the sponsors for the Honor Club. This is Ms. Newton's fourth year at ACS, and her eighth year of teaching.
email: newtont@acs.gr
Humanities

Zavacopoulou, Amalia , Division Chair of Humanities
Ms. Zavacopoulou was born in London, but was raised in Athens and attended a British international school. She holds a Bachelor of Arts degree in European Social and Political Studies, a four-year course with majors in History, French and Italian from University College London, and a Masters degree in Journalism from University of Westminster, London.
A qualified secondary school teacher, she taught French and Spanish in an inner city London school through Teach First, a ground-breaking graduate training program that combines two years teaching in challenging London schools with business and leadership training. She also worked as a substitute teacher in over 20 different London schools in long-term and short- term placements for a further two years.
She joined the ACS Athens team in 2010 and started working in the Writing Center, where she helped and advised students on a variety of written assignments. She has since been involved in many aspects of school life: she co-coaches the ACS Athens Academy debate team, has participated in the Mentorship Program and has co-presented a workshop at the NESA Conference. In 2016 she co-presented a paper at the ICODL Conference and also co- authored an article, "Humanities Program: An Innovative Classic," that was published in the book Revolutionizing K - 12 Blended Learning Through the i2Flex Classroom Model. This year she is team-teaching Humanities, and Grade 9 Europe and the World, as well as serving as Division Chair for Humanities, Arts and Physical Education.
email: zavacopouloua@acs.gr
Dimitropoulos, Angelos, Academy PE Coordinator
Mr. Dimitropoulos is a Physical Education Teacher and Coordinator for Physical Education. Mr. Dimitropoulos was raised in Athens, Greece. He earned his Bachelor Degree in Physical Education from the University of Physical Education and Sport Science in Athens and then received his Masters Degree in Sports Management, through a program ran by the International Olympic Committee, from University of Lyon, France.
Mr. Dimitropoulos has worked as the Baseball Competition Manager for the Athens 2004 Olympic Games and has also observed the Sydney 2000 Olympic Games. He has published a book on baseball.
He recently authored a chapter in the 2016 publication "Revolutionizing K-12 Blended Learning through i2Flex Classroom Mode".
He has also worked as a basketball coach in Greek Professional League and has attended a number of basketball clinics in Greece as well as in the States.
Mr. Dimitropoulos is a certified lifeguard and an emergency responder (CPR/First Aid for adult/child/infant).
email: dimitropoulosa@acs.gr

Venos, Christina, Faculty, K-6 Humanities & PE Coordinator
Ms. Christina Venos completed her Bachelor's degree in Elementary Education at Northern Illinois University and is certified to teach from Kindergarten to 6th grade. She taught in a private elementary school in Chicago for 3 years and taught Greek school for 4 years on the weekends.
Ms. Venos earned her TESOL certification through Oxford University. She also started researching Growth Mindset. She attended the Learning and the Brain seminars in San Francisco yearly to expand her knowledge on Growth Mindset in the classroom from speakers such as Carol Dweck. With this research, she was able to successfully implement Growth Mindset in her classroom and presented a workshop on Growth Mindset at the NESA conference in Thailand titled 'An Educators Perspective to Growth Mindset.' During her teaching in Chicago, she was chosen to lead the primary team in finding a suitable curriculum to meet the needs of the students. She was able to introduce and implement a new math and ELA curriculum in her school. She became the primary department chair and received a Teaching Teams/Teacher Leader certification from Harvard in 2016.
Ms. Venos believes that teaching and learning become a simultaneous journey for both the teacher and students when the students' energy is aroused by a teacher's genuine intensity for learning because everyone is ready and willing to participate in active learning. To achieve active learning, a teacher must demonstrate enthusiasm and express confidence in the students' abilities to learn and be successful. Her goal as a teacher is to instill a passion for lifelong learning within her students while providing them with an educational environment that is encouraging and positive. She aspires to provide the skills and tools necessary for success and foster the individual talents of each student, giving them the confidence to embrace their dreams and make them a reality. Ms. Venos was born in Athens, Greece, and raised in Chicago, Illinois.
email: venosc@acs.gr
Arts

Soseilos, Sophia Stella, Division Chair of Arts
Sophia Stella Soseilos was born in Bonn, Germany, did her High school years in Nicosia, Cyprus and completed her Bachelor's degree in Fine Arts Education from at the University of Witwatersrand, in Johannesburg, South Africa. After that, she enrolled in the Drama Department of the same University doing Theater Design. Since then she has worked in South Africa, Greece and Cyprus as an Artist, Art Teacher, Interior Designer and Stage Designer for numerous theaters and TV set productions.
She is, at the same time, a qualified and experienced Art Teacher with international teaching experience both as a private and school teacher. Simultaneously Ms. Soseilos is a writer. Her short stories are published in two books. She holds a Master's degree in Creative writing from the University of Western Macedonia, in Greece.
Ms. Soseilos is in ACS Athens since 2012. In addition to teaching, she is the Visual and Performing Arts Coordinator.
email: soseiloss@acs.gr
School-Wide Coordinators

Kassem, Sana, Faculty, Assessment Coordinator
Ms. Sana Kassem has been a chemistry and biology teacher at ACS Athens since 2004. She earned a B.Sc. Science (Biology/Chemistry) from the American University of Beirut and a M.Ed. from the University of LaVerne, Athens.
She taught biology and chemistry for IGCSE, A level, AP, French Baccalaureate and IB classes in many international schools in Beirut, Dubai, Abu Dhabi and Athens. In addition to teaching she has worked as an academic advisor for curriculum development of science at the Higher Colleges of Technology in Abu Dhabi, as Head of Science in International Schools in Abu Dhabi and Athens and has been an IB Biology examiner since 2000 and an AP Biology examiner since 2014. In 2015, Sana was selected by the IBO to be a team leader for IB biology examinations. In 2015, she took the challenging task of teaching science in the elementary school, servicing grades JK to grade 5. She has developed an inquiry-based science curriculum, the goal of which is to provide plenty of opportunities for the children to experience things in a hands-on way in order to encourage and increase their curiosity and to instill in them the lifelong love for science.
At ACS Athens Colloquium she presented the approaches and methods applied during inquiry- based lessons and had two demonstration sessions with elementary school students doing different science activities. In addition to this, she published the article "What Are We Doing Today" in the Ethos Magazine of Winter 2015.
She co-authored with Dr. Stefanos Gialamas and professors from 3 different institutions two articles that were published in Journal of Education and Practice, "Which Sweetener Is Best for Yeast? An Inquiry-Based Learning for Conceptual Change", (www.iiste.org, Vol.8, No.2, 2017) and "Where Have the Beans Been? Student-Driven Laboratory Learning Activities with Legumes for Conceptual Change." Where Have the Beans Been The two articles were published in Journal of Education and Practice (www.iiste.org, Vol.9, No.11, 2018).
In March 2017 Sana presented her work in the advancement of science in the ACS Athens Elementary School's Science Program at NESA conference in Bangkok, Thailand. Ms. Kassem shared her curriculum design, vision & methods to colleagues from international schools in the region in her workshop entitled, "The Mother of All Methods: A Unified Vision for Teaching Sciences".
In June 2017 the first online IGCSE Biology book that was published by www.Kognity.com where Ms. Kassem has co-authored five chapters of the book.
email: kassems@acs.gr

Rontogiannis, Labrini, Virtual Classrooms & Technology Coordinator
Ms. Labrini Rontogiannis was born and raised in Montreal, Canada and moved to Athens in 2004. She earned a Bachelor of Science in Cell Biology at McGill University and a Bachelor of Education, specialization in Science and English Literature, also from McGill. Ms. Rontogiannis has also received a M.Ed. specializing in Educational Technology at the University of Calgary, Canada.
Ms. Rontogiannis has been teaching at ACS since 2005 and she takes pride in getting involved in all aspects of student life; both in and out of the classroom.  She has taught Language Arts and Science in both the Middle School and Academy. She has coached Girls Junior Varsity and Varsity Volleyball teams for a number of years, at ACS Athens and in Montreal Public Schools.
Ms Rontogiannis has also taken part in many professional development opportunities both in Athens and abroad, as well as presented her own work at a number of conferences. In 2014, she presented at the ICALT conference in Athens, and was the recipient of the Best Poster Award. Ms Rontogiannis authored a chapter in the 2016 publication "Revolutionizing K-12 Blended Learning through i2Flex Classroom Model" titled "Flipping and Flexing in Science: Video lessons and the i2Flex Model". She has also written a number of articles for both school publications Ethos and Lancers Illustrated. On the virtual learning front, she has designed and implemented both the Virtual Health course that she has been teaching since 2014, as well as the eighth grade i2Flex Health course that she both designed and taught. She has also taught online courses through ACS Athens Virtual.
This year Ms Rontogiannis is teaching 10th grade Health, both F2F and through ACS Athens Virtual and is the coordinator for ACS Athens Virtual and Technology Integration.
email: rontogiannisl@acs.gr