Divisions
The key element in academics and curriculum development of ACS Athens is its Academic Divisions structure. This organization allows the school to coordinate and optimize curriculum development and delivery across the schools, benefiting the students through the grades and various levels available for each subjects. Division Chairs also are responsible for budgetary recommendations of projects and coordination of faculty allocation among courses and grades.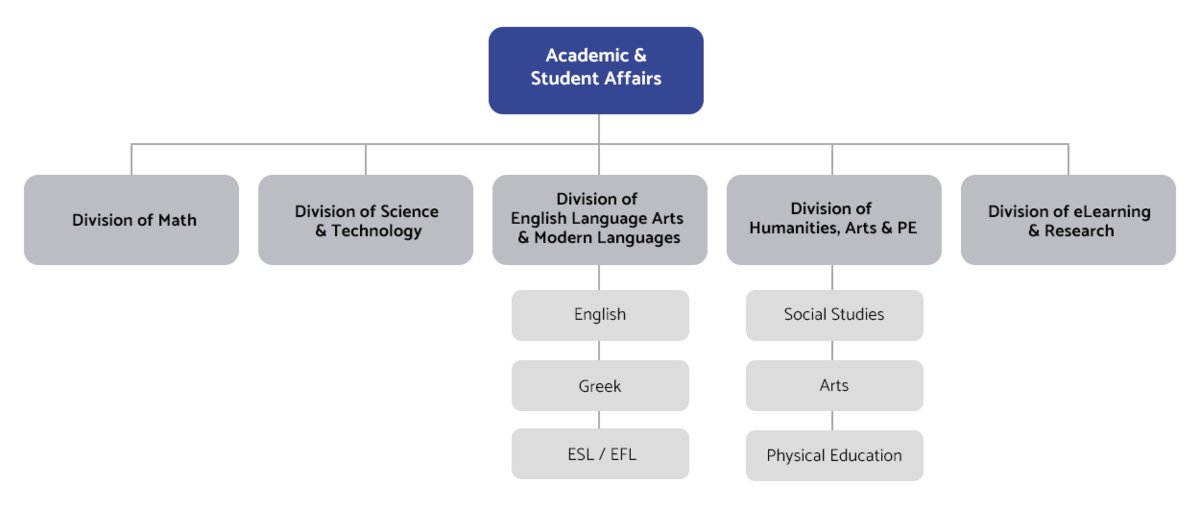 Mathematics

Dr. Andreas Tsokos, Division Chair Mathematics
Dr. Andreas Tsokos is a Science Teacher and Division Chair of Mathematics. Dr. Tsokos was born in Cyprus. He attended the University of Birmingham in the U.K with a full scholarship and was awarded a double Honors degree in Physics and Mathematics. At Birmingham, he received the Nora Calderwood Prize for highest achievement in the final examinations. He obtained a Master of Science and a Ph.D. in Physics from Cornell University in the USA.
Dr. Tsokos has served as Assistant, Deputy and Chief Examiner for IB Physics. He is the author of Physics for the IB Diploma, Series and Differential Equations, IB Physics in a nutshelland about 20 research papers dealing, mainly, with Quantum Chromodynamics. In one paper he showed how the high temperature limit of chiral gauge theories leads to the appearance of topological mass terms for the associated gauge fields. His main interests are Physics, Mathematics and the music of Johann Sebastian Bach.
He has been a faculty of ACS Athens since 1995.
email: tsokosa@acs.gr
Science & Technology

Dr. Likourgos Hristakos, Division Chair, Science & Technology
Dr.Hristakos completed his B.Sc. in physics at the University of Lancaster in the UK. He then continued his graduate studies in experimental physics (M.S) at the University of New Hampshire in the USA. Following this he successfully defended his Ph.D. in experimental low temperature physics at the University of Bayreuth in Germany. Dr. Hristakos worked as a post-doc research scientist at the Centre des etudes atomiques in Saclay-France and at the University of Tuebingen in Germany.
He has taught IB physics at ACS for a decade and he has also worked as an AP physics teacher at the American School of Dubai. He is currently the Division Chair of Science & Technology at ACS Athens.
email: hristakosl@acs.gr
eLearning & Research

Dr. Maria Avgerinou, Director - Educational Technology and eLearning
Maria D. Avgerinou, Ph.D. holds a B.Litt. in Byzantine and Modern Greek Language and Literature from the National and Kapodistrian University of Athens (GR), an M.Ed. and a Ph.D. in Educational Technology and Psychology from the University of Bath (UK) with research focus on Visual Literacy, Assessment, and Mixed Research Methods. She holds postdoctoral diplomas on eLearning Design, Implementation, and Evaluation from the Institute of Education, University of London (UK), the University of Hull (UK), and more recently from Indiana University (US). For the past 20 years as a certified online educator and a former academic in American, British, and Greek universities, she has taught, published, and presented extensively on the research and practice of online and blended learning, action research, and visual literacy for education and training with particular emphasis on teacher education and professional development.
As an international scholar, Dr. Avgerinou has been active in a number of professional associations such as the American Educational Research Association (AERA), the Association for Educational Communications and Technology (AECT), the European Distance and eLearning Network (EDEN), and the International Visual Literacy Association (IVLA). In recognition of her contribution especially to the field of Visual Literacy, Dr. Avgerinou has received various awards, most notably IVLA's Research Award (2009), and the Braden & Beauchamp Award (2001, 2010). In 2012, she was elected the Editor-in-Chief of the Journal of Visual Literacy (JVL/Routledge), the oldest international academic journal in the field. Furthermore, she currently serves as a Master Reviewer for Quality Matters® (MarylandOnline/US), and an external specialist for European Commission's Key Action 2: Cooperation for Innovation and the Exchange of Good Practices.
Dr. Avgerinou has been with the ACS Athens community of learners since 2013 as the Director for Educational Technology and eLearning (i2Flex). Most recently, her role has been extended to incorporate that of the K-12 Lead Researcher in the Learning Commons of the Sabbagh Library. She is a proud mom of two Elementary School children, and an enthusiastic member of ACS Athens' Tennis Academy.
email: avgerinoum@acs.gr