Principal's Greeting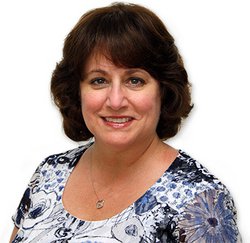 Welcome to ACS Athens Middle School!
When I first became a principal 23 years ago after teaching for several years, I was conscientious of how I would continue close student connections that I had a reputation of forming as a teacher. In education, we all know that it's the relationship with students that is the initial building foundation for learning. Forming those relationships while being a principal has been a 'piece of cake!' Being kind and open to students, firm yet friendly, and sharing in their world helps them get to know me and me to know them. I continue to practice this every day. In my role as principal, I consider myself a life-long learner, the consummate teacher, and coordinator of all teachers.
My main goal as principal is the positive progress of students in their academic, social and behavioral achievements through school. I achieve my goal, with the help of dedicated educators, through positive interactions, modeling best educational practices, as well as hiring, collaborating and mentoring teachers. My teaching and administrative experience has been mostly in the state of Kansas where I was a teacher and administrator in five different school districts and this assignment is my fifth lead-principalship role in secondary education. I was the Academy Principal for two years and I have returned after completing obligations in Kansas. I love ACS Athens and it's great to be back!
I truly consider this experience at ACS to be another fabulous opportunity to work with students, parents and teachers using all my learned skills with all levels and types of learners. I look forward to problem-solving for student success whether that is through open communication with students, parents, teachers or other educational professionals. Through mutual respect we will be able to solve any academic, social or behavioral challenge associated with our students' learning.
The evident quality and structure of ACS, along with the flexibility of scheduling, are some of the greatest assets of ACS Athens. Students are encouraged to participate fully in all aspects of the American school experience, including athletics and activities to form a well-rounded educational experience. Middle School is a tough, transitional time in child development and there is no rulebook. Patience is the key. I anticipate with pleasure working with everyone here at ACS in the Athens community.
Kind regards,
Julie Crain, Ph.D.
Middle School Principal