ACS Athens PTO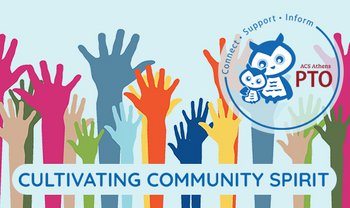 On behalf of the Parent Teacher Organization we warmly welcome you to the American Community School of Athens - a community of parents, students, faculty and staff representing 63 nationalities, spanning across the globe. As an ACS parent, you are automatically a member of the PTO; no registration is required.
Our Goals are:
to bring together the diversity and multinationalism of the entire community through events and fund-raising for the educational benefit of our children and
to express the thoughts of the parents to the school effectively and to all work together for positive changes.
We believe that most parents would agree that serving on the PTO is a great way to not only support our children's journey through school but to have the opportunity to work closely with the faculty and administration, creating positive working relationships for the benefit of our children/s ACS Athens education.
Our announcements are made through school-wide emails, our Facebook page (ACS-Athens-PTO), this web page, school notice boards, the PTO notice board (by the transportation office) and the electronic bulletin board.
PTO By-Laws & Constitution
According to its by-laws and constitution, the purpose of this organization is to provide opportunities for parents and teachers to meet in an atmosphere of friendliness and understanding that they may cooperate in advancing the schools' standard of education by:
Supporting the schools's goals through volunteer service, fundraising activities, and enhanced educational opportunities for students (see latest in PTO News & Events);
Facilitating communication between parents and the schools; and
At the discretion of the Executive Board, providing a forum for discussion of important issues and, where appropriate, informing the schools' administration and Board of Education of the opinions of the members of the organization.
For your reference, please feel free to download the new PTO Constitution and By-Laws which were enacted in April 2007.