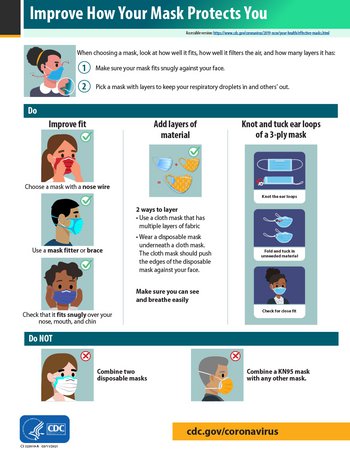 Face mask guidelines from the greek ministry of health
Universal masking is recommended to slow the spread of COVID-19. Cloth masks and medical procedure masks substantially reduce exposure from infected wearers (source control) and reduce exposure of uninfected wearers (wearer exposure).
Correct and consistent mask use is a critical step everyone can take to prevent getting and spreading COVID-19. Masks work best when everyone wears them, but not all masks provide the same protection. When choosing a mask, look at how well it fits, how well it filters the air, and how many layers it has.
Face masks are mandatory in ALL indoor spaces.
General principles for mask use
Masks should:
Have two or more layers of washable, breathable fabric
Completely cover the nose and mouth
Fit snugly against the sides of the face and not have any gaps
Have a nose wire to prevent air from leaking out of the top of the mask (a metal strip along the top of the mask)
Be handled only by the ear loops, cords, or head straps (not by the surface of the mask)
The minimization of the gaps between the face and the mask is achieved:
By using nose Wires: Use cloth or surgical masks that have a nose wire (a metal strip along the top of the mask) to help prevent air leakage at the top of the mask. Nose wires can also help to prevent fogging of eyeglasses. To get a good fit, make sure to bend the nose wire over your nose to conform to your face.
By knotting and tucking: This technique can be used to improve the fit of a surgical mask. Knot the ear loops of the mask where they join the edge of the mask, then fold and tuck the unneeded material under the edges. (For instructions, click here)
By using mask fitters and braces: These devices can be used over a medical procedure mask or a cloth mask to improve the fit by helping to reduce air leakage from around the edges of the mask.
Types of masks recommended for the public
1. Cloth Masks
Cloth masks can be made from a variety of natural and synthetic fabrics and fibers, and many types of cloth masks are available.
What to look for
Look for a cloth mask that is made of multiple (2-3) layers
Do not choose masks that are made of fabric that makes it hard to breathe, for example, vinyl
Do not choose cloth masks with exhalation valves, because they allow respiratory droplets containing the virus to escape.
2. Medical Procedure Masks (sometimes referred to as Surgical Masks or Disposable Face Masks)
What to look for
Check the labels to ensure that they are made of multi-layered, non-woven material.
Fit snugly against the sides of the face and not have any gaps
A medical procedure mask can be layered underneath a cloth mask for improved fit and filtration. However, a medical procedure mask should not be layered underneath a second medical procedure mask. Using a mask fitter or brace may also help to improve fit.
3. Respirator Masks
Its use is recommended for health care professionals
They are multi-layered and offer good protection
They bear markings of their category (FFP2, Ν95, ΚΝ95) and the standard they meet depending on the country of origin
People at increased risk for severe illness from COVID-19, such as older adults or people with certain underlying medical conditions, may prefer to use a KN95 mask when interacting with people who do not live with them.
Do NOT wear respirator masks with exhalation valves since they allow respiratory droplets containing the virus to escape.
Basic principals of proper face mask use
Make sure they snugly against the sides of the face and not have any gaps. Gaps can let air with respiratory droplets leak in and out around the edges of the mask
Pick a mask with layers (2-3) to keep your respiratory droplets in and others' out. A mask with layers will stop more respiratory droplets getting inside your mask or escaping from your mask if you are sick
Do's
Individuals should:
1. Choose a mask with a nose wire
A nose wire is a metal strip along the top of the mask
Nose wires prevent air from leaking out of the top of the mask.
Bend the nose wire over your nose to fit close to your face.
2. Use a mask fitter or brace
Use a mask fitter or brace over a disposable mask or a cloth mask to prevent air from leaking around the edges of the mask.
3. Check that it fits snugly over your nose, mouth, and chin
Check for gaps by cupping your hands around the outside edges of the mask.
Make sure no air is flowing from the area near your eyes or from the sides of the mask.
If the mask has a good fit, you will feel warm air come through the front of the mask and may be able to see the mask material move back and forth with each breath.
4. Add layers of material
2 ways to layer
Use a cloth mask that has multiple layers of fabric.
Wear a disposable mask underneath a cloth mask.
- The cloth mask should push the edges of the disposable mask against your face.
Make sure you can see and breathe easily
5. Knot and tuck ear loops of a 3-ply mask
Knot the ear loops of a 3-ply face mask where they join the edge of the mask
Fold and tuck the unneeded material under the edges
For video instructions, click here.
Don'ts
Individuals should not:
1. Combine two surgical masks
Disposable masks are not designed to fit tightly and wearing more than one will not improve fit.
2. Combine a KN95 mask with any other mask.
Only use one KN95 mask at a time as it offers more protection.
NOTES:
Men with beard is recommended to wear a double mask, as the volume of the beard makes it difficult to properly apply the surgical mask.
The use of a double surgical mask is NOT recommended, because after its application, the gap remains at the top of the nose as well as on the sides, from where air and droplets can enter.
Mask respirators such as N95, KN95 or FFP2 offer 94%-95% protection. They are disposable and should not be combined with a second mask, but worn alone. They must be CE certified and have no exhalation valve since they allow respiratory droplets containing the virus to escape.
Face shields are NOT recommended. Evaluation of face shields is ongoing, but effectiveness is unknown at this time.
Face masks are mandatory in ALL indoor spaces including the workplace, excluding the people who work in a private space without the presence of any other person. The use of face mask is not obligatory for:

a) People who suffer from medical conditions that contraindicate the use of a face mask and can prove it with adequate documents and

b) Children below 4 years old.

The use of face masks is an additional measure and does not replace the rest. Based on the scientific data available, current guidelines for controlling and preventing the spread of SARS-CoV-2 in the community include:

- Proper hand hygiene

- Physical distancing

- The use of face mask

- Avoid face touching

- Respiratory hygiene

- Good ventilation

- Frequent surface disinfection

- Fast detection of positive cases and their isolation as well as immediate tracing of their contacts
To sum up, in regards to the type of masks, people can use:
Non-medical (cloth) masks or disposable surgical masks, ensuring their proper fit on the face
Double masks (cloth mask should be over the surgical mask)
Proper hygiene guidelines should be followed before and after wearing a mask.
For more information, please click here.
For more information, please visit: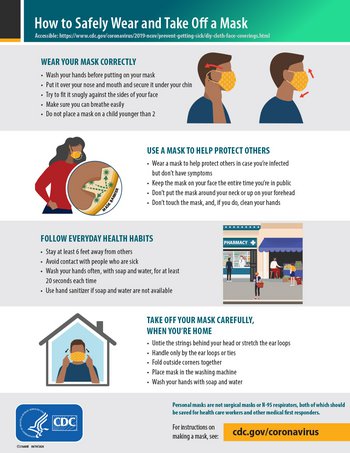 Do's and dont's of face masks
Why do people wear masks this period?
The new coronavirus or SARS-CoV-2 can cause respiratory infections and other symptoms of COVID-19.
You might have coronavirus and NOT experience any symptoms or experience mild symptoms. Some people though, especially the ones who belong in high risk groups (i.e. elderly people), might get very sick and need long-term hospitalization or even have their lives put in danger.
Despite the fact that groups of people who are seriously ill are usually people who have underlying health issues or are of older age, sometimes even young people can get seriously ill or children without health issues.
Asymptomatic people CAN transmit the virus through the respiratory droplets emitted when they speak, sing and especially when sneezing or coughing.
The transmission of the virus is higher when the distance is less than 1.5 meters.
Why wearing a face mask is a powerful weapon against the spread of the new coronavirus?
It minimizes our exposure to the respiratory droplets of others who "host" the virus into their throat, therefore it protects us from contracting the virus
It protects the people around us from contracting the virus that we might have in our throat, even if we don't experience any symptoms.
The use of face mask by everyone will prevent another big wave of the pandemic and minimize the need for further stricter restrictive measures in our country.
How to wear a face mask
Before applying the mask:
Carefully practice hand washing with soap and water for at least half a minute. Rinse your hands with water, dry them with single use paper towel, use the paper towel to turn off the faucet and then dispose it in the garbage bin.
OR rub hands well with hand sanitizer (at least 60% ethanol) until it dries. DON'T forget to rub the whole hand and especially between the fingers.
With clean and dry hands remove the mask from its container, holding it by the ear loops.
Place the mask carefully on your face and make sure the soft side (white) touches your nose and mouth while still holding the mask from the elastic bands. The blue/green color ALWAYS goes on the outside. Ear loops should not be used as an indication for mask direction.
Using your free hand, wrap the elastic band around one ear and with a slow and careful move wrap the second elastic band around the other ear.
When both of the elastic bands are placed into your ears, extend the surgical or cloth mask up above the nose and down to the chin. Please make sure it covers the mouth, nose and chin.
Pinch the metallic strip of the face mask so that it presses gently on your nose bridge.
Gently pull the mask from its down side so that it unfolds and covers your chin.
Check that your mask is probably adjusted and feels comfortable on your face. Try speaking to ensure that it will not later fall from your nose while talking.
It's IMPORTANT to remember that if the face mask does not fit perfectly on your nose and mouth and allows air to pass through gaps, you are NOT protected, and it will just make you feel uncomfortable.
*Tip* Apply the above mentioned steps in front of your mirror for the first few times, so you can repeat them confidently when you do not have that opportunity.
THE DO'S OF WEARING A FACE MASK:
Wear a mask in ALL enclosed spaces where the appropriate distance of 1.5 meters can't be kept
Wear a mask that does not feel loose on your face
ALWAYS wear a clean and damage-free mask
Keep your mask in a clean bag before wearing it
Place your mask in the bag and make sure that you hold it from the elastic band
Place each mask in separate bags
Have at least 2 face masks with you during school (in separate bags)
Remove the mask from your face by simultaneously pulling both rubber bands
Rub your hands with hand sanitizer after removing the face mask
In case you want to remove the mask for a short period of time, please remove the mask as described above; hold the mask from the elastic bands, fold it inwards and place it in your bag.
The cloth face coverings must be washed everyday
The single use masks (surgical masks) must be disposed after every use
The cloth mask should have at least two layers and be washed in a high temperature (60°C) and when it's dry, it needs to be ironed well and placed in a clean bag.
FACE MASK IS MY MOST PERSONAL ITEM
*Tip* Use bags bigger that the masks to things easier. Zip lock bags are a handy solution.
THE DON'TS OF WEARING A FACE MASK
DO NOT remove your face mask when you are in enclosed spaces or outdoor spaces where the appropriate distance of 1.5 meters can't be kept.

These are the situations where the protection of a face mask is essential.

DO NOT remove your mask when you are speaking with someone.

When we talk, small droplets are released in the air; wearing a mask properly can stop these droplets from being transmitted to another person.

DO NOT touch the front part of the mask.

The mask holds the droplets that can transmit the virus; if you touch the front part of the mask the virus may be transmitted on your hands and subsequently contaminate your face or any other surface you may touch.

DO NOT let the mask fall down from your nose.

In case the mask drops, and you want to fix it, press the metallic strip and adjust the elastic bands into a more suitable position. Use hand sanitizer before and after fixing your mask.

DO NOT wear your mask on your chin, the nose and mouth MUST be covered at all times.

Doing so, the protection of wearing a mask is nullified, while the outer surface of the mask is also getting to close to your mouth and gets moist. Additionally, your hands and face will be contaminated when attempting to raise it again.

DO NOT wear wet masks.

Wet masks can cause trouble breathing and offers zero protection

DO NOT wear a mask that hasn't been cleaned thoroughly, or that is soiled, torn, saturated, damaged or has any distortions in shape or form.

Dirty masks are very dangerous, and they do not protect you while a damaged mask besides the zero protection gives a false sense of security.

DO NOT share masks with ANYONE no matter how close you are with that person. Do not leave your mask exposed to areas where another person might touch it. Sharing or exchanging masks is not permitted. If this happens, it means that you are sharing the germs with that other person. Immediately replace the mask with a new one.
DO NOT leave your mask on surfaces (i.e. chairs, desks, tables, etc.).

The mask gets contaminated and at the same time contaminates the surfaces.

DO NOT use the same bag for different masks, each mask should be in a different bag.

Germs from dirty masks will infect the bag, as they can survive for many hours and as a result they can infect the clean mask if you place it in the same bag.

DO NOT neglect to continue taking other preventive measures, including staying 1.5 meters away from others, paying attention to where your hands are, and washing your hands often.
For more information about how to select, wear, and clean your mask, click here.
Scientific data regarding the risk children with underlying health conditions face from contracting the new coronavirus are limited as this is a newly discovered virus. The following guidelines might be modified in the future as the knowledge of SARS-Cov-2 infection increases depending on the epidemiological data.
Groups of children who should wear a surgical mask instead of a fabric mask
The use of a surgical mask instead of a cloth one, should be discussed with their treating physician, regarding children with underlying conditions as described below:
Children with a history of severe immunosuppression (chemotherapy, hematopoietic stem cell transplantation or solid organ)
Children with cystic fibrosis
Children receiving biological disease-modifying drugs, such as children with rheumatic diseases or inflammatory bowel disease
Children with thalassemia
Children with diabetes
Children for whom the use of a face mask is NOT recommended
Children with cognitive, developmental, mental disorder or behavioral disorder;
Children with serious neurological or muscular or other conditions that prevents them from handling their mask properly
Healthy children who object to the use of face masks
Both parents and educators need to understand that this pandemic turned our daily routine upside down and as a result it creates a sense of frustration and insecurity for children.
Children who have questions or object to using a mask, does not necessarily mean that develop anxiety disorders of phobias. Instead, in these cases, children should be provided with more information about the importance of masks on a daily basis. It is imperative that both parents and teachers should be well informed about the necessity and safety of wearing a mask. Children should not receive mixed messages from adults of their close environment. Lastly, all of the information should be offered in the best way possible depending on the child's developmental level. If a child develops anxiety disorder or any form of insecurity regarding the use of face masks or Covid-19, a team of specialists (counselor, psychologist, nurse) will be there to assist them.
Cases of children where lip reading is important
In cases where lip reading is important for the communication and/or education of children (i.e. speech therapy), instead of using a cloth or surgical mask, children and/or teachers may use transparent full-face shield or special cloth masks with a transparent window for lip reading.
*Children or faculty members who for medical reasons must not wear a face mask, need to provide proper medical documentation to the Health Center. Depending on the case, the medical/face masks will be replaced with a protective face shield. *