Registration Information
REGISTRATION PROCEDURE
for NEW STUDENTS and RETURNING STUDENTS (who have not yet registered)
All new students proceed to the check-in desk on the ground floor of the Administration Building.
You will be guided to the:

• Photography desk on the 2nd floor of the Administration Building to have your photo taken for parent IDs if you have not done so in the past. Students entering the 6 th and 9 th grades must also have their photos taken for the student ID's.

• Transportation Desk in the Conference Room to arrange for bus transportation;

• Health Office Desk in the Conference Room for any needed updates of health files;

• Other desks available:

- Parent Teacher Organization (PTO) desk to get updated on events and participation;

- Gefsinus cafeteria services desk;

- Student Affairs "Houses" representative desk;

- and the Incubator Project representative desk.

Meet with the data processor to verify data on the student's record
Meet with the appropriate school Counseling Office personnel
Meet with the Cashier's Office (second floor of Administration Building) for payment arrangement of school tuition and fees.
Note: Middle School and Academy are in the Conference Room 2nd floor. Elementary School
Interviews and Data Controller are located on the Wellness Room, next to the Conference Room.
Updated: July 2019 (JP/FT)
Purchase ACS Athens Notebooks For The 2019 - 2020 Academic Year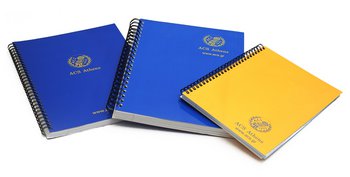 Purchase your school supplies for the year and show your school spirit. ACS Athens notebooks (in school
colors of blue and gold and in three sizes) will be on sale beginning August 26th.
Notebooks can be purchased in a package of 3 (large, medium, and small) for €6, or they may be purchased individually.
Small size: 17.5x24, 90 pages, three sections €1.50
Medium size: 20.5x26.5, 100 pages, one section €2.50
Large size: 21x29.5, 160 pages, two sections €3.50
The notebooks will be sold at the Cashier's Office.