Fragkou, Andromachi, Director of Services and Employee Development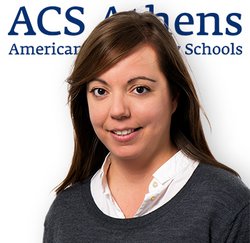 Ms. Andromachi Fragkou has been a member of the ACS Athens community since April 2018. With a strong dedication to fostering human development, she currently holds the position of Director of Services and Employee Development. Her approach to this role is shaped by a solid educational background and extensive professional experience.
Ms. Fragkou's academic achievements include an MBA Degree from Athens University of Economics, a Master's Degree in Human Resources Management from Paris University 7 Denis Diderot, and a Bachelor's Degree in Psychology from the National and Kapodistrian University of Athens. Her practical experience spans over a decade, encompassing various sectors such as NGOs, retail, and banking in both Paris and Athens.
Drawing from her diverse background, Ms. Fragkou applies her knowledge to benefit the ACS Athens community. Her current responsibilities involve utilizing her expertise to empower individuals, nurture their growth, and contribute to the overall progress of the community.
email: fragkoua@acs.gr