El Gazzar, Farida, Faculty, Art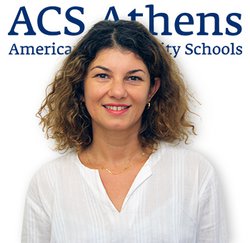 Ms. Farida El Gazzar is an ACS Athens alumna. She was born in Alexandria, Egypt, and raised in Kuwait and Greece.
Ms. El Gazzar received her Master of Arts degree from the Royal College of Art in London, after having graduated and earning her Bachelor of Arts Hons degree from Kingston University in Surrey, UK and Vakalo School of Art & Design in Athens. Prior to joining the ACS Athens faculty ten years ago, she gave seminars for portfolio preparations and fine art drawing classes to ACS Athens students in collaboration with AKTO School of Art & Design. More recently, she also taught at the Fine Arts and Graphic Design departments of the American College of Deree and at Campion School.
From 2003 to 2007, she was co-founder of the creative team WARDA. Ms. El Gazzar was an artist-in-residence at The Townhouse Gallery in Cairo 2008, and at Al Riwaq Gallery in Bahrain 2009, where she also gave workshops to local artists.
She is represented by Kalfayan Galleries, Athens-Thessaloniki and has exhibited in Greece and abroad. She is a visual artist and freelance illustrator. Her artworks have been exhibited at Art Basel, Miami and Hong Kong, Frieze London, The Armory New York, Artissima Turin, and are among institutional collections such as The Barjeel Art Foundation in Sharjah and major private collections in Europe, the USA and the MENAM. Among her clients, she has also collaborated with the National London Theatre, the Greek Ministry of Environment, ATHENS 2004, Cornell University Press, DOL Lambrakis and Kathimerini publications.
email: elgazzarf@acs.gr