IB Program Examinations and Schedules
All IB students registered to take IB exams in May 2024 will sit the January 2024 IB Mock Exams, starting Wednesday, January 17, 2024, until Monday, February 5, 2023. Mock examinations aim to assess student learning on the syllabus covered up to this period and to familiarize them with the procedures of the formal examinations.
The schedule provides for two make-up exam days for those who happen to be ill during the exams. It should be noted, however, that the make-up exam option is not available for the May examinations. If a student is ill during the May exams, the next available option for a retake is the IB November examination session. Further, please be reminded that a doctor's note is required before sitting for the make-up exams.
During the IB Mock exam period, full IB Diploma students are excused from any classes that might be running. All other students taking courses as certificates are only excused from other classes the day before the scheduled exam and on the day of the exam.
Parents of IB students (Diploma and Course candidates) please read carefully the files.
January 2024 IB Mock Exam Schedule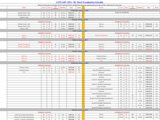 IB Code of Conduct for IB examinees (2: Students are responsible to follow all required procedures for the IB examinations. Please read the Code of Conduct carefully.
IB Use of Calculators: Please review the IB Calculator policy. Remember to bring a calculator for those exams where one is required. No calculators will be provided to students who arrive without a calculator.
Should you have any questions or concerns, do not hesitate to contact the AP / IB Office.
Sincerely,
Mark McGowan
IB/AP Director