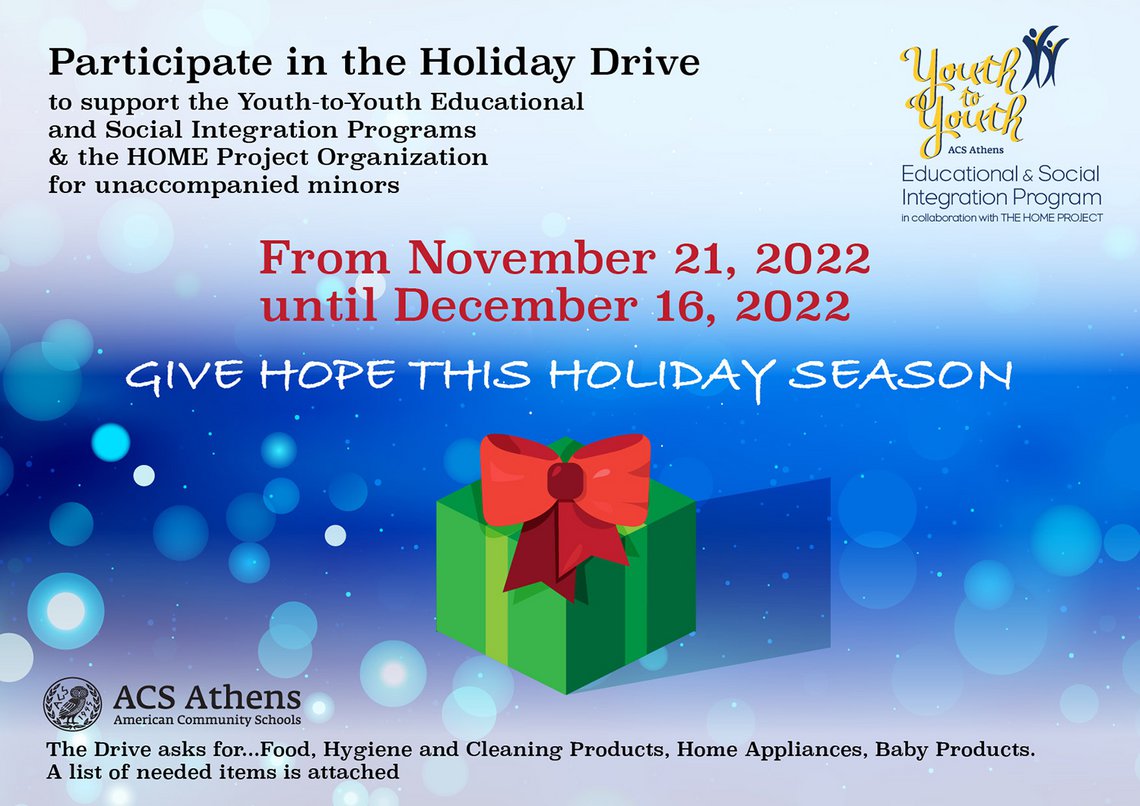 As we all begin preparing for the festive holiday season ahead, let's also keep in mind those less fortunate than us.
This year, our IB students are going to apply principles of the IB program, such as being a Global Citizen and engaging in service learning, by leading a Holiday Drive for those in need.
 
From November 21 to December 16, 2022, join us in donating various food, hygiene, cleaning products, home appliances, and baby products to support the Youth-to-Youth Educational and Social Integration Programs and The HOME Project Organization for Unaccompanied Minors. 
Each week, our students will prepare drop-off boxes, collect donated items and organize them for delivery to the HOME Project.
 
You can drop off your donations in specially marked boxes outside the main offices of the Elementary, Middle, and High Schools, Mondays through Fridays from 09.00 to 16.00.
 
For larger items and any questions, you may have, please contact Ms. Eleni Athanatou at athanatoue@acs.gr and 210 6070247.
 
Please choose to donate from the following items:
 
Food Items
salt
milk
cereals
olive oil
greek coffee
sugar
sunflower oil
corn can
ketchup
barley
croissants
mayonnaise
mushrooms
jam
mustard
vinegar
pepper
chickpeas
rice
baking soda
spaghetti
tomato juice
lentils
beans
Home Appliances
air conditioners
refrigerators
kitchen
washer and dryer
laptops
cell phones
Baby Products
diapers 5-9kg
diapers No6 11-16kg
diapers No6 12-18kg
diapers 15kg
undershirts
onesies
baby carriages
Personal Care Products
deodorant
bubble bath
hair spray
razors
toothbrush
toothpaste
shampoo
bar soap
Kitchen Products
aluminum foil
non-stick paper for oven
wipes
kitchen gloves
disposable gloves
dishwashers capsules
membrane
kitchen paper
disposable bags-small
disposable bags-large
washing powder
silver wire sponge
kitchen sponge
disinfectant
cleaning liquid for windows
dishwasher liquid
toilet paper
chlorine
We can all make a difference this holiday season.