Zilotis, Marina Maria, Math Studio Coordinator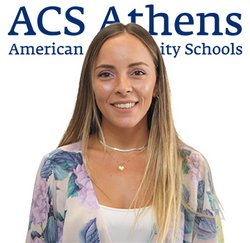 Ms. Marina Maria Zilotis holds a Bachelor's Degree in Pure Mathematics and a MSc in Information and Communication Technology from the University of The Aegean. Her thesis on «Information Security Culture in the context of Electronic Governance» received very good reviews and "prophetically" addressed issues that turned out to be pertinent in the later years during the Covid-19 Pandemic.
Ms. Zilotis was born and raised in Athens. Apart from English and Greek, she also speaks very good Spanish and French. She aspires to continue learning foreign languages and getting more familiar with the cultures they represent.
Ms. Zilotis knew she wanted to be an educator since her early years. During her studies she undertook courses including Teaching Geometry, Teaching Mathematics and Teaching Algebra, as well as courses on how to implement New Technologies in Education. Soon after obtaining her undergraduate degree, she tutored Middle School and High School students in MYP and IB programs. In 2020 she felt blessed to be working with extremely talented students in Acadimos. She eagerly prepared them to enter and excel in country-wide competitions.
During the pandemic she was given the opportunity to create and implement online interactive courses for her students thereby combining both of her degrees in an effort to enrich the learning process and use new technologies and advancements to the benefit of the academic community.
Ms. Zilotis is a passionate person who loves animals, nature, people, tennis and the water, and never misses a chance to be near them. She is happy to be working as a Math Studio Coordinator and a Math Permanent Substitute (Guest) Teacher in ACS Athens.
email: zilotism@acs.gr