Stavropoulos, Athena, Writing Studio Coordinator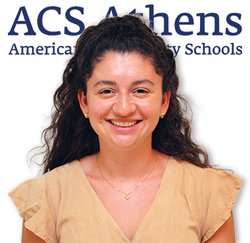 Ms. Stavropoulos earned her Bachelor's degree in Elementary Education from the University of Michigan with a concentration in Science Education. After graduating, she taught in Michigan public schools in the first-grade and fifth-grade. She loved her experience however her dream was to pursue international education.
Ms. Stavropoulos' career in international education began while she studied abroad in Italy. She taught English language classes within the local Italian community and saw the power of creating community in the classroom. This experience, as well as her Greek heritage, motivated her to pursue teaching opportunities in Greece. In 2019 she was awarded a Fulbright Scholarship where she became an English teaching assistant at Athens College. Through her scholarship she assisted in the English language department and acted as the school's cultural ambassador by sharing American traditions and customs with Greek students. The Fulbright program gave her opportunities from collaborating with teachers from around the United States to attending a Media Literacy Conference in Bulgaria where she learned techniques and best practices for teaching media literacy.
Ms. Stavropoulos is proud to be part of the ACS Athens community and excited about her new role as the Writing Studio Coordinator. She looks forward to connecting with all of the students!
email: stavropoulosa@acs.gr