Constantinidou, Rodia, Math Studio Specialist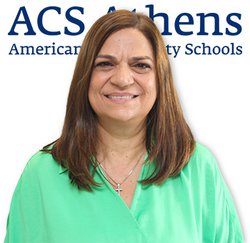 Rodia Constantinidou holds a Bachelor of Science degree in Civil Engineering and a Master of Science degree in Mechanical Engineering from Worcester Polytechnic Institute (Worcester, Massachusetts, USA), an Associate degree in Early Childhood Education from the State of Florida, as well as an Education Specialist degree in Curriculum and Instruction with a specialization in Mathematics Education from Florida International University (Miami, Florida, USA). She also attained the Florida Professional Educator's Certification in the areas of Elementary Education, Mathematics Grades 5–9, and Mathematics Grades 6–12, with an endorsement in Gifted Education.
She has extensive experience as a Mathematics teacher, having worked at Archimedean Middle Conservatory in Miami, Florida for 17 years. There she taught mathematics to grades 4 through 8, including General Mathematics, Algebra 1 Honors, Algebra 2 Honors, and Geometry Honors. She also held leadership positions such as Lead Teacher, Mathematics Department Chair, and Mathematics Coach for competitions. Furthermore, she served as the School Assessment Coordinator for all Florida standardized testing.
Prior to becoming a Mathematics teacher, she worked as a civil engineer in Cyprus and Massachusetts, as well as a preschool teacher at a Child Development Center in Florida.
email: constantinidour@acs.gr