Bellou, Helena, Permanent substitute Teacher in English Language & Literature, Writing Studio Assistant & LEP Instructor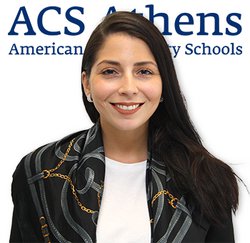 Ms. Bellou obtained her Bachelor's Degree in English Language & Literature from the University of Athens. She specialized in the history of American Literature. Ms Bellou received special training in English phonetics and in the creation of lesson plans suited to students' needs. In addition, she received training in Special Education at the University of Aegean.
She is presently a postgraduate student in "Economics of Education and Management of Educational Units". Her choice for her master's degree stems from her passion for leadership as well as from aspiring to guide and help students throughout their learning process.
Her love for the English language started at an early age. She felt adept in communicating in English from an early age and overtime grew to love reading American literature books in her free time. Soon after obtaining her Bachelor's, she began working in private schools. She taught all levels ranging from kindergarten youngsters to adults. Moreover, she worked with students who have special needs. To her, this experience helped her grow as an individual.
Her love for children and her will for wanting to provide help to those who need it, motivate her to keep being a cheerful , kind and optimistic teacher!
"We're educators. We're born to make a difference."
email: belloue@acs.gr