Perakis, Chris, Consultant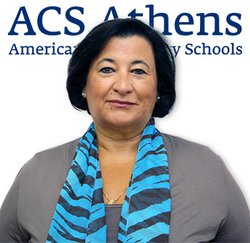 Ms. Perakis was raised in Newport, Rhode Island. She holds a Bachelors of Arts in Elementary and Special Education from Salve Regina College and a Masters of Arts in Special Education from Lesley College. She is currently working on a post graduate degree on Improving Student Learning and Quality of Teaching in International Schools from Buffalo State SUNY University. Ms. Perakis holds several teaching certificates including certificates for teaching students with mild-moderate-severe learning differences and handicaps.
For the past ten years, she has co organized the ACS Athens Annual Learning Differences Conferences, a continuing effort to raise awareness on the subject of educating children with learning differences. Ms. Perakis has also served as a team member on the Committee of Institution-wide Accreditation of the Middle School Association of Colleges and School (MSA), and on the study and research group at John Hopkins University for bringing the CTY program to Greece.
Since 2010, Ms. Perakis has been selected to serve on The European Council of International Schools (ECIS) Special Education Needs (SEN) Committee. She is also the Vice President for the Professional Special Education Society in Greece, a founding member of the Hellenic Institute for Study and Research of Learning Disabilities and serving on the IB Special Education Needs (SEN) Committee, as well as, the Stavros Niarchos Foundation Education committee for Learning Differences.
For the past five years she has served as a consultant to the ACS Athens Institute for several projects; including work for the Educational and Diagnostic Testing Center, Teaching the Shadow Teacher course, organizing events such as the Inclusion conference, the All class reunion, etc. Recently she has agreed to support and consult at the Development Office. A life long learner who considers ACS Athens her second home since 1981.
email: perakisc@acs.gr