Welcome to the Enrollment Management Office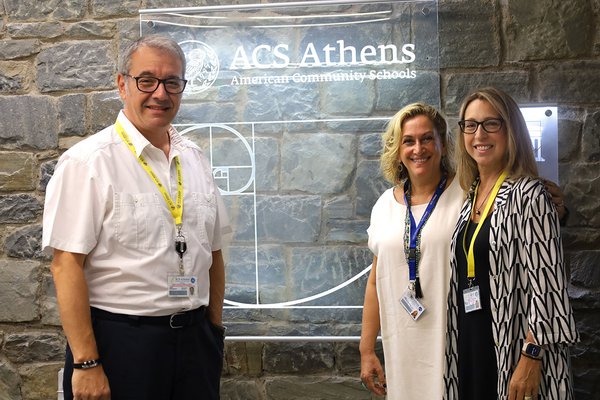 Dear parents and prospective students:
Thank you for your interest in joining the international family of ACS Athens representing more than 60 countries. ACS Athens accepts applications throughout the academic year, from students who strive for academic excellence.
Our Enrollment Management philosophy acknowledges the different cultural and educational backgrounds of our students; that's why we do our utmost to convey the message of international education to our prospective families by welcoming your visits to our school and offering insight to our unique and innovative educational system and its many choices through meetings with our counselors and academic leaders, when it is appropriate or necessary. Our admissions policy and processes, as described below, is reviewed and refined regularly, aiming to accept students based on their academic merit and a first-come-first-served basis.
We encourage you to contact us via email at acs@acs.gr or call us at 30 210.6070.263, or 30 210.6070.251 with your questions about our programs, admission requirements, and the ways we can assist you in the application process.
Sincerely,
John Papadakis, MBA - Director
Frances Tottas - Assistant Director
Dr. Jenny Grigoropoulou - Admissions & Outreach Counselor
Important Note:
Due to the extraordinary measures safeguarding health and safety in our campus related to the COVID-19 pandemic, ACS Athens cannot accept walk-ins or unannounced visits. Families interested to visit our campus and/or request information about enrollment, please complete the following form and receive a confirmation email from the Enrollment Office before arriving to the school.
Enrollment Office Meeting Request Form >
The above form is not an application for admission.
Help us keep our community and your family safe! THANK YOU for your cooperation!
Important Dates for 2023-24
Updated: August 2, 2023
| | | | |
| --- | --- | --- | --- |
| Aug 28 – Sept 1 | New Student Registration | Sep 7 | Grades 1–12 Classes Begin |
| Sep 7 | Grades 1–12 Classes Begin | Sep 11 | PJ/JK/K Begins |
| Nov 3 | MS/HS Quarter Ends | Nov 23-24 | Thanksgiving Holiday |
| Nov 30 | ES End of 1st Trimester | Dec 23 - Jan 7 | Winter Break |
| Jan 26 | MS/HS First Semester Ends | Mar 8 | ES 2nd Trimester Ends |
| Apr 12 | MS/HS Third Quarter Ends | Apr 29 – May 7 | Spring Break |
| June 14 | Graduation Ceremonies | | |
Note to Returning Students
Any student officially withdrawn from ACS Athens for more than one semester, who wishes to return to the school, needs to re-apply for admission, by submitting all application-related documentation.
Testing & Interviews
All applicants entering 6th - 12th grades must take English and Math tests to qualify for admission.  Tests are given in ACS Athens at regular dates or after special appointments, through a proctor at the student's current school (via special arrangement with our Admissions Office), or through an online synchronous session by appointment. Please note that a student has to submit an Application Form in order to take the Admission Test.
Students entering Pre-Kindergarten through 5th grade are assessed by an Elementary School committee, that evaluates them according to developmental benchmarks (early ages), English language, Math and other cognitive skills.
The Application Process at a glance
Step 1:
Read all instructions below carefully - For any questions, please contact the Admissions Office.
Step 2:
Submit an Application Form for each applicant student with required documents.
A non-refundable application fee must be paid upon submission (100€ for the first child, 50€ for each additional child). Please see payment options here.NOTE: The application will not be processed without a paid application fee.
Step 3:
Arrange for Admissions Testing (Grades 6-12) or Interview and Assessment (Grades JK-5) - through the Admissions Office.
Step 4:
If student passes the testing, submit remaining documentation required by the Application.
Step 5:
Complete Application file is reviewed by the Admissions Committee. All decisions are communicated with the families through email.
Step 6:
Registration (last week of August) - See Important Dates above