Elementary School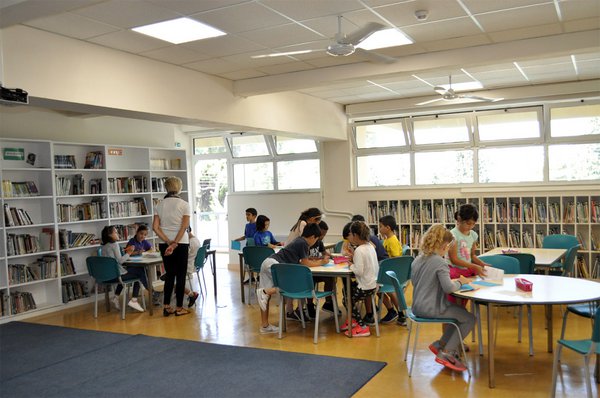 The ACS Athens Elementary School team of educators consists of dedicated professionals who bring unique experiences and expertise to the field of education. Most of them hold Masters Degrees in one or more fields of education and continue their professional development every year.
The ACS Athens Elementary program relies heavily on the synergy that comes from good teamwork. Classroom teachers work in tandem with their grade level colleagues and specials teachers. The child receives the benefit of teachers using their individual and collective strengths to help the students learn quickly and feel successful.
The Elementary School is located on the west side of the ACS Athens campus. Shaded by mulberry trees, the Elementary School's main building holds the Main Office, Counseling Office, Library, 1st - 4th grade classrooms, Art Room, Science Lab, Cafeteria, P.E. Room, Multi-purpose Room and classrooms for Foreign Language, and ESL. The Technology Lab and OL classrooms are located in the High School Annex building. The Junior Kindergarten and Kindergarten enjoy their own wing "Early Childhood Area" and a large grassy playground. The 5th grade classrooms also have their own wing close to the Middle School building. The Music classroom is located on the side of the Elementary School right across from the Early Childhood area. The Health Office is located in close proximity to our classrooms. There is a commitment to ongoing upgrading of facilities to provide for a better learning environment.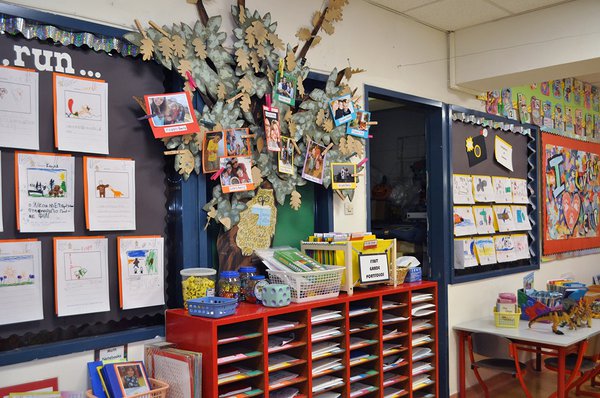 The Elementary School sits across the courtyard from the Middle School and Academy's special facilities, which are sometimes shared. They include the Hasib J. Sabbagh Library, Gymnasium, Swimming Pool, Soccer Field, Tennis Courts, and Theater.
Every student at ACS Athens studies Mathematics, Language Arts (Reading and Writing) daily. Units of study alternate between Science and Social Studies. In addition, each grade level meets with specialist teachers throughout the week for Art, Music, P.E., Technology, Science, Library, Arabic, Greek or English as a Second Language. Students are supervised on the playground from 8:15 a.m. to 9:00 a.m. The school day begins at 9:00 a.m. and ends at 3:45 p.m. All students are asked to arrive at least 10 minutes early to school so that they can be ready to learn at 9:00 a.m. sharp!
Units of study in Science and Social Studies provide a context for students to apply their basic skills in Math and Language Arts. In addition to mastering the basic tools for learning, students learn to think conceptually, gather facts and acquire knowledge, apply and practice skills, develop attitudes and take action.
The Elementary School views students as thinkers with important, emerging theories of the world. Building on students' prior knowledge, teachers integrate their curriculum using a range of teaching strategies, and resources. Rather than focusing on isolated and non-contextualized facts, students develop critical thinking skills to become lifelong learners, problem solvers and positive contributors to our global society.
Students are also involved in the learning process by giving critical feedback to their peers and themselves. Assessment can occur from written tests, lab reports, presentations, performances, observations, research papers, projects, etc. Report cards are used to assess students' level of mastery and to provide important anecdotal observations about a student's progress and social development. Students take a standardized, norm-referenced test (MAP) twice every year in grades 3 - 5. Once a year students lead their own conferences and communicate their learning to their parents using a portfolio of their work during the Student-Led Conferences.
Textbooks supplement, rather than direct, the curriculum at ACS Athens. Students learn beyond typical textbook requirements and strengthen higher level thinking skills. In addition to the texts listed, teachers frequently draw upon primary sources (including guest speakers or performers), library/media, online resources, computer software, trade books and literature to supplement the curriculum.
Textbooks are provided to all students through their classroom teachers. All books loaned to students will be returned to the teacher at the conclusion of each course. Students who withdraw from school should return all textbooks before their records can be cleared. If a student fails to return books or damages them, there will be a fee to replace the textbook.
Middle School
The administration, faculty, staff, students, and community of the ACS Athens Middle School are devoted to academic achievement and individual growth for every child. We all strive to maintain a supportive environment where respect for individual differences and rights of others guide our behavior.
Students in grades 6, 7 and 8 are going through a stage of rapid change in mental, physical, social, and emotional development. Based on the needs of children experiencing these changes, our program and staff:
Provide an appropriate, child-centered educational experience that actively engages students in the acquisition of basic skills, knowledge, and concepts and contributes to the development of higher order thinking. It helps students understand the connections between learning and life.
Engage students in a wide range of formal cognitive and experiential learning opportunities, including hands-on exploratory courses in the arts, physical education, and modern language.
Encourage each student to develop a positive self-image through frequent opportunities for success, while recognizing the influence of peer pressure. This enables students to develop responsibility and self-control through opportunities for participating in decision-making in a variety of ways. We promote confidence in self and respect for others by involving students with each other in structured and unstructured ways.
Respond sensitively to the widely fluctuating needs of individuals by giving personalized attention to each student's needs, structuring learning environments to respect individual differences, and providing a variety of informal learning activities for students.
Differentiate learning to accommodate a variety of learning styles and needs.
Always, in making school decisions that affect students, the development of the whole child during this unique stage in life is our primary concern.
Academy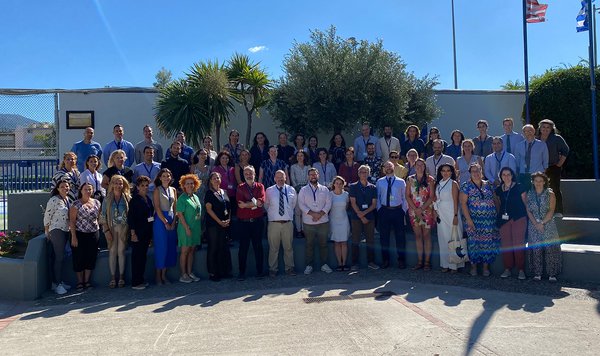 The ACS Athens Academy is a comprehensive four-year high school enrolling 400 students in grades 9 through 12. The Academy's diverse offerings are unparalleled in Greece at the secondary school level. As an international school embracing American principles of education, our program strives to maximize the growth of the whole person and to provide equal opportunities for a diverse student body. Our focus is also to encourage multicultural awareness and understanding, as well as to honor the rich culture of our host country.
The range of courses offered at the ACS Athens Academy allows students with varied interests and talents to excel and to continue to grow academically. Courses are offered in all of the traditional academic areas, as well as in the Fine Arts, Computer Technology, Physical Education, and Health. The Optimal Learning, EFL, and ESL Programs provide more individualized assistance for students who require it for mastery. Taken as a whole, the Academy program offers an exemplary college preparatory experience for all students.
Co-curricular opportunities -- cultural, academic, service and athletic as well as programs offered by the ACS Athens Institute, that allow students the opportunity to pursue college-level study for credit --- provide possibilities for students to extend learning beyond the classroom. The Student/Parent Handbook and the publications of the IIC contain descriptions of such activities.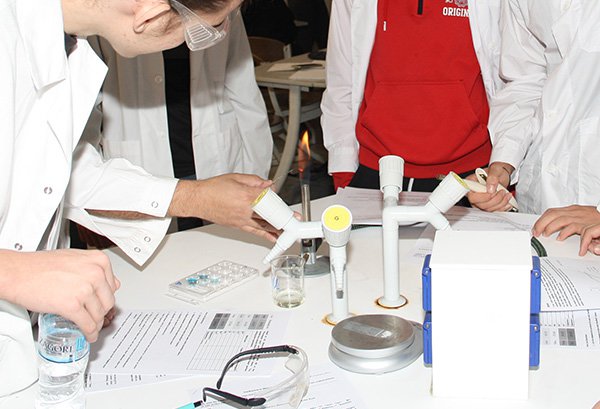 The philosophy, practices, academic and social expectations that shape the challenging ninth and tenth-grade experiences prepare our students for our eleventh and twelfth grade College Preparatory and IB/AP Diploma Programs. Our rigorous academic program is complemented by extensive athletics, activities, and service opportunities, which allow our students to develop their skills, talents and social commitments outside the classroom setting. In the country that gave birth to the concept of the well-rounded individual, we strive to take a holistic approach to student growth.
Students engage in a tech-rich environment, through a Bring Your Own Device (BYOD) Program, and are additionally supported with two technology labs, two mobile laptop carts, and a state of the art Media Studio: Students have daily access to fully equipped Science laboratories, a professional theater, a Fine Arts studio, Music and Dance studios, an indoor gymnasium with a rock climbing wall, a weight-training room, a swimming pool, soccer field, outdoor basketball, volleyball and tennis courts, and two library/media centers, which contain one of the largest collection of English Language books in Greece. The faculty has incredible teaching experience averaging over 20 years.
Education is a partnership. We are working hard to create a harmonious, challenging and positive learning environment. We cannot do this unless students take seriously their responsibility for learning and contributing to the school community, and we certainly cannot do it without parental support. Working together as members of a caring and concerned team, we can successfully guide your children / our students on the path to academic achievement and responsible citizenship in preparation for successful and meaningful lives.
IB/AP
The IB program is an integral part of the Academy's academic offerings, where students may take the full Diploma Program or combine individual IB courses with a selection of AP, Virtual or American diploma courses.