Prices, Payment Options and Benefits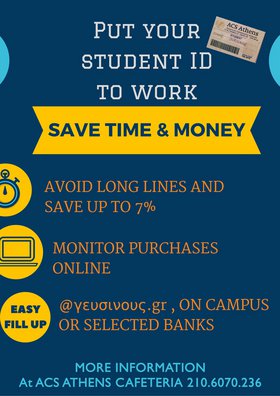 The price for the meal is:
High and Middle School Meals
Daily hot plate big: 4,55€
Elementary School Meals
Daily hot plate natural fruit juice (220 ml)

or bottled water or milk: 4,95€
The pricing policy has been negotiated with the School's Management Team, according to the tender documentation and requirements of ACS Athens. Gefsinus has establised a contemporary computerized system, which can give statistics for your children's daily food/beverage consumption. You can prepay for your children's food for 20 or 60 meals and get a further discount on the meal cost. You can also get a discount for your 2nd or 3rd child in the school. Every child will have its own prepaid meal card, which is necessary for the purchase of meals and also for buying extra snacks, drinks, etc., as approved by their parents.
You can make direct payment to the Food Services Cashier (Monday to Friday, 09:00-11:00) or deposit the monthly amount in the bank for your child's meals, seven days prior to the week's meal period, or pay with credit card. The prepaid card can also be used for purchasing other products except meals, such as snacks, juices etc. This option has a minimum deposit of €10. For each purchase, children will receive the relevant receipt from the Cashier and it will be their responsibility to deliver it to their parents. In cases where invoices are requested, customers should inform the Cashier prior to the purchase.
The Menu of the hot meals is published at the schools on a mothly basis and there is one for Middle School / High School and another for the Elementary cafeterias. The offered food items pricing is also listed in our website. For full hot meals there is a prepayment card which offers a price discount.
The hours of operation are 8:00 to 18:00 at the main cafeteria. The Elementary cafeteria is open only during the lunch time. All students, school employees and parents can eat at the cafeteria areas regardless of whether they purchased the food from the school cafeteria or brought the food from home.
Gefsinus
Gefsinus is the largest catering company operating in closed markets in Greece and one of the largest ones in southeastern Europe. It caters daily to 90.000 people in more than 80 service locations in Athens, Crete and Peloponnese. It covers the catering needs of industrial and service provider companies, medical care and educational institutions, camps, etc. It owns an ultra modern and fully equipped central production unit in Athens and one in Crete, which are designed according to the standards imposed by the European and Greek legislation.
Founded in 1992, we boast for our 22 years of experience that give us the expertise needed to offer the best quality in all our products and services. Our meals are based on the Mediterranean cuisine which is acknowledged world wide as the most balanced and healthy cuisine. We focus on using materials, fruits and vegetables in season to ensure their quality and non-use of chemicals.
We undertakes this project feeling honored for the trust that is offered to us and commit to providing all the security guarantees by strict selection of products and suppliers, as well as foods' preparation and serving methods.
We want to assure you that our previous and on-going experience in providing quality and healthy meals to students will continue at ACS Athens as well. Our clients' references are at your disposal at any time.
We are honored to have been chosen to undertake the management of the Middle/High School's and Elementary School's Food Services at the ACS Athens premises, acknowledging the importance of the service and setting the bar even higher for ourselves. During childhood and adolescence there is a rapid growth of the child with increasing height and weight. Combining proper nutrition with adequate physical activity is particularly crucial to ensure the satisfactory development of the child. It will help the child:
To be trained to enjoy foods rich in nutrients
To adopt behaviors that should eventually lead to a healthy adulthood
Gefsinus' approach for providing healthy and tasty meals for the students will focus on:
Strict selection of Suppliers and Raw Materials
Ongoing collaboration with Nutritionist
Design menu based nutritional principles for this age group
Cover all food groups
Use mainly seasonal fruits and vegetables
Powered recipes with nutritious materials e.g. burgers with oats instead of white bread, whole wheat pasta, etc.
We renovated both the Elementary School and Middle/High School Food Services areas in order to become more functional and practical, while also providing a pleasant environment for the students.
Gefsinus, through its brands will be offering the students meals, foods and beverages, which will meet federal requirements based on the Dietary Guidelines set by the Hellenic Food Authority (EFET). We will provide students with access to a variety of affordable and appealing goods that meet the health and nutrition needs of the specific group.
Café Ciel stand: Variety of fresh snacks, pastries and sandwiches as well as beverages
Gefsinus stand: Freshly cooked meals based on the Mediterranean cuisine and Salad Bar with variety of choices
Eataliano: Fresh pasta and pizza with high quality and healthy raw materials e.g. turkey, vegetables
Burger Station stand: Healthy version of children's favorite meal with 100% beef, chicken or veggie burger
The products we choose are from certified and approved suppliers who have undergone diligent checks concerning their methods of handling and distributing food and materials, in strict compliance with current EU and Greek legislation. In case some products do not meet the standards, they are immediately returned to the supplier through the ISO system processes. At all stages of production we adhere to procedures according to the certifications ISO 22000:2005 & ISO 9001:2008 and ISO 14001:2004. The preparation of all food is closely monitored while the necessary tests are conducted and recorded under the provision of Legislation for Food Safety.
Gefsinus has a very strict Hygiene Controlling System, which includes continuous sanitary inspections of premises, equipment and supply chain conducted by independent laboratories in all facilities where productions of meals take place.
For any suggestions or questions, you can contact either the Cafeteria Manager (Gefsinus employee Dimitris Fotis) at extension (210) 639 3200 x236, or the school's Director of Operations, Steve Kakaris at kakariss@acs.gr.
You can also find more information about the company by visiting us at www.gefsinus.gr