Kokkinos, Andreas, Elementary OLP Aide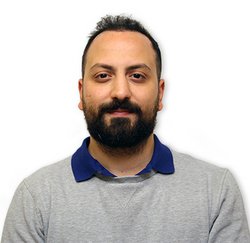 Andreas Kokkinos was born and raised in Athens, Greece. He holds a B.A. in Theatrical Studies from the Faculty of Fine Arts, obtained from the University of Peloponnese. During his B.A. studies, Mr. Kokkinos worked in the elementary school of Kyveri, Argolida as a drama practitioner. This was an excellent experience that truly sparked his interest in working with children. In 2015, he moved to the United Kingdom and pursued an M.A. in Applied and Participatory Theatre at Royal Holloway University of London.
After concluding his studies, Mr. Kokkinos worked at the St. Mark's Social Education Day Service in London for three years. There, he gained extensive training and valuable experience in the fields of autism, special education, and social training. This professional experience taught him to truly recognize, understand and cater to students' unique personalities and traits, encouraging and assisting them to improve their capabilities and talents through specialized and goal-driven educational methods. During his time at St. Mark's Social Education Day Service, Mr. Kokkinos also obtained the Diploma Level 3 in Health & Social Care (autism-specific) from Pearson Edexcel and First Aid training.
Upon his return to Athens, Greece in 2020, he joined the ACS Athens community as a Shadow Teacher. Mr. Kokkinos has focused on supporting students academically by implementing specific strategies and interventions. He also devised creative organizational methods to support students in following the pace of the classes, staying up to date with responsibilities and commitments as well as developing concentration, participation, and multitasking skills. Mr. Kokkinos also takes great interest in building students' self-confidence and social skills within the school environment. He is very committed to meeting students' personal, unique needs and improving their skills through his collaboration with them. Last but not least, Mr. Kokkinos' work ethic and trust in his students are driving forces in not only helping them improve their academic performance but also motivating them to thrive in anything they set their hearts and minds on conquering. In January 2021 Mr. Kokkinos joined the OLP Department as the Elementary OLP Aide.
email: kokkinosa@acs.gr