Georgiou, Persefoni, OLP Specialist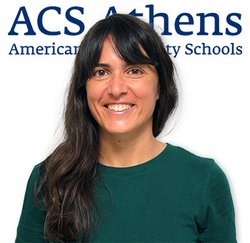 Persefoni Georgiou studied Classics at the University of Athens and holds a certificate in Special Education from the same university. She also has a Master's (MA) in Special Education from the University of Birmingham, a Master's (MA) in Ethical Philosophy from the National Kapodistrian University of Athens and a Master's ( MA) in Child and Family studies from Leiden University.
Ms. Georgiou joined ACS Athens in August 2022. Before that she worked as a special educator for different centres and as a classroom teacher, teaching Greek language and literature. In 2014 she moved to the Netherlands where she worked for the International School of the Hague as a Learning Support Teacher and after that for the American School of the Hague, where she held different positions in the Learning Support Team. Ms Georgiou was trained in Makaton sign language, Visualizing and Verbalizing for Comprehension and Thinking, and Pecs Level 2. She is really excited to be part of the Optimal Learning Program(OLP) team in supporting Middle School students through their academic journey towards becoming confident and independent learners.
email: georgioup@acs.gr