Rodopoulou, Ifigeneia, Academy Guidance Specialist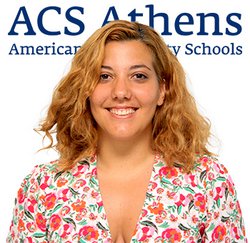 Ifigeneia Rodopoulou was born and raised in Athens Greece. She is a professional with studies and experience in Secondary Education and College Counseling. Her bachelor's degree is in Pedagogy, Psychology and Philosophy at the National and Kapodistrian University of Athens, her master's degree in Special Education at the University of Nicosia and she holds a certificate in College Counseling from UC San Diego. Ms. Rodopoulou has obtained many skills and strategies from seminars and extended studies, guiding students on their academic path not only as a Secondary teacher but also as an Academic Advisor. Experience has proven that she can effectively communicate with students from various backgrounds and age groups and provide psychological support to students, parents, and teachers that deal with academic and behavioral needs.
Ms. Rodopoulou has been a member of ACS Athens since 2017 employed as Advisory Teacher for grades 11 & 12, Special Educator and Online Instructor for the ACS Athens Institute. Alongside, she has worked as Secondary Teacher in a Greek Special Education School in Ilioupoli, which provides education for children with special educational needs and as Digital Storytelling teacher at ACS Athens Summer Camp. Her experience as an educator has been multidimensional as she has been working with students from various backgrounds. Her work always prioritizes student's wellness in a multicultural environment that respects educational values and gives the opportunity to students to thrive and become strong and independent people.
email: rodopouloui@acs.gr