Theofilou, Evangelia, Math/Science Studio Assistant, Faculty of Science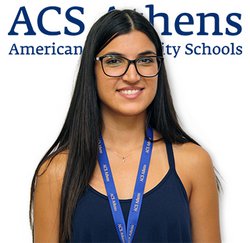 Ms. Evangelia Theofilou obtained her Bachelor's Degree in Chemistry from Aristotle University of Thessaloniki (2016) and her Masters Degree in Environmental Health / Toxicology from the Medical school of National and Kapodistrian University of Athens (2018) with the highest grade in her class.
She has worked as an analytical researcher in the National Center of Scientific Research "Demokritos" and at the University of Birmingham about toxicological topics like the "Carcinogenic impact of aflatoxins in peanuts" and "Skin toxicity of anticancer therapies".
She is a holder of QTS (Qualified Teacher Status-UK) and speaks Greek, English and French. She loves traveling and her dream is to travel all around the world.
She has been working at ACS Athens since 2019 as a Science and Technology teacher and in the math/science studio assisting students in Chemistry and Biology.
This year, she will be teaching Science 8, Computers 6 and 8 in Middle school.
email: theofiloue@acs.gr