Pappas, Sophia, Administrative Assist. to the Director of the Learning Commons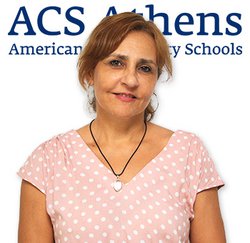 Ms. Pappas was born in Montreal to a Greek father and a French-Canadian mother. While growing up in a multicultural society such as Montreal, she was exposed to diverse cultures giving her a broad perspective on attitudes, behaviors and ways of thinking.
Ms. Pappas completed her primary education in French and thereafter continued in English. With her family, she moved to Greece for 4 years and attended ACS Athens. It was a great experience and she has fond memories. After completing high school, another move brought her back to Montreal where she graduated from Concordia University with a Bachelor in Sociology. During her studies, she gained experience as an EFL teacher and a preschool educator. She envisioned opening a preschool that centered around meaningful, child-centered educational activities. Shortly after, she founded a large preschool in Laval, Quebec, which is still in operation today. This center was amongst the first to incorporate computers and a bilingual curriculum into its program. Much hard work and planning was involved in order to make it successful. Ms. Pappas obtained a Master in Education from the University of Montreal as well as a Graduate Degree in ECE from Concordia University..
In 2003 Ms. Pappas moved to Greece. Always in the field of education, she taught IB psychology and uptook several translation contracts as a freelancer. From 2004 - 2020 she also taught all levels of EFL in private schools as well as Business English in large companies, NBG and Alpha Bank.
From 2004 and to this day, Ms. Pappas occupies another administrative position She is the link between the customer and furnished rental properties catering mostly to embassy staff. Ms. Pappas oversees their functioning, prepares rental contracts, coordinates and outsources maintenance contracts.
She is a proud mother of three and happy to be part of the ACS Athens community. She hopes to make a meaningful contribution to the school she so much loved as a teenager.
Ms. Pappas believes that education, hard work, and good principles are the key to success.
email: pappass@acs.gr