Pappas, Sophia, Administrative Assist. to the Director of the Learning Commons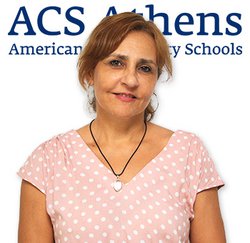 Ms. Pappas was born in Montreal to a Greek father and a French-Canadian mother. She attended French elementary school and thereafter continued her education in English.
She attended ACS in her last four years of high school. Thereafter she returned to Montreal, where she graduated from Concordia University with a Bachelor's in Sociology. She simultaneously gained experience as an EFL teacher and a preschool educator. She envisioned opening a preschool that centered around meaningful, child-centered educational activities. In 1990 she founded a large preschool in Laval, Quebec, which is still in operation today. This center was amongst the first to incorporate computers and a bilingual curriculum into its program. In 1991 she received a Master's in Education from the University of Montreal and, in 1993 a Graduate Degree in ECE.
In 2003 she moved to Greece. She taught all levels of EFL as well as Business English at NBG and various large companies. She simultaneously administered a business specializing in providing lodging for company and embassy staff. As a freelancer, she taught IB psychology and uptook several translation contracts.
Ms. Pappas is a mother of three. She believes that education, hard work, and good principles are the key to success.
email: pappass@acs.gr