Liakou, Dimitra, Learning Commons Monitoring Aide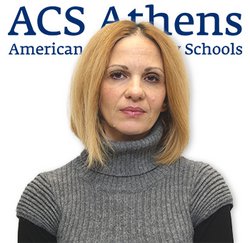 Ms. Liakou studied to be a Dental Technician at Sivitanidios Schools in Athens. Although this choice in studies seemed to be the right one, it soon proved to be one she felt no passion for. Over time, she decided to change career paths and attended technical courses at IEK XINI geared towards secretarial support.
Ms. Liakou eventually uptook a secretarial position at Radio Korasidis and at the company Micromedia Sharp. She gained experience in working with the public thereby refining her communication and teamwork skills. Ms. Liakou has a sense of duty and a keen eye for detail. She speaks Greek, English and Italian.
She is a mother of a 13 years old son and she believes that:
"Education does not end after school years."
email: liakoud@acs.gr