Konstantopoulos, Dimitris, Math/Science Studio Assistant, Permanent Physics Substitute Teacher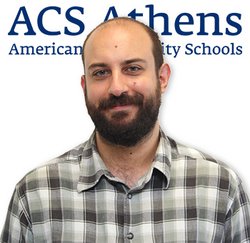 Dimitris Konstantopoulos holds a BSc in Physics from the National and Kapodistrian University of Athens (NKUA).
He is very passionate about teaching and generally about imparting knowledge to younger generations. He has extensive experience in the private sector as an instructor in different levels, from Middle School to the University level.
Apart from teaching, Mr. Konstantopoulos has other passions. He loves music and studies the electric guitar at Nakas Conservatory. He is proud to be part of a band where besides playing the guitar, he also has a wide repertoire of songs he sings.
Mr. Konstantopoulos highly values the effort to perpetually progress in terms of knowledge, a philosophy he is looking forward to sharing with all ACS Athens students in his second year in the school as a permanent physics substitute teacher.
email: konstantopoulosd@acs.gr