Kardampiki, Dimitra, Math Studio Specialist, Faculty of Math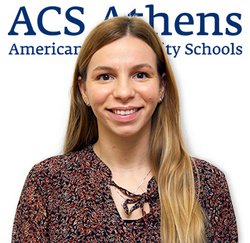 Ms. Dimitra Kardampiki holds a BS in Mathematics from the University of­ Patras, Greece. Dimitra believes that mathematical skills are not only a fundamental part of academics, but are also the building blocks of critical thinking in school and beyond.
In the last few years, her work has entailed both classroom and private teaching in all grades and hi-tech teleconferencing services. Apart from teaching, Ms. Kardampiki has quite a versatile background; has lived in many countries, excelled both in dance and basketball and has received a plethora of awards in chess.
Born in Pittsburgh, Pennsylvania and having traveled extensively has given her a more diverse outlook on life. She speaks both English and Greek fluently.
From November 2020 up to June 2022, she worked at ACS Athens as the Math/Science Studio coordinator as well as co-teacher for the Diving Deeper program.
From September 2022 she has been working as a Middle School Mathematics Teacher grades 6 to 8.
email: kardampikid@acs.gr