Alexopoulos, Alexia, Elementary School Permanent Substitute Teacher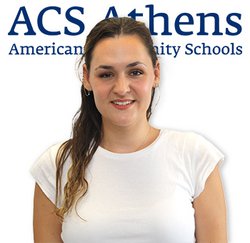 Ms. Alexopoulos is a Greek American ACS Athens alum who went on to the United States where she obtained her Bachelor's in Psychology from the University of Massachusetts in Dartmouth. During her undergraduate studies, she worked in a school and fell in love with teaching. She later moved to Houston TX and obtained her Master's degree in Special Education from the University of Houston and is now certified to teach general education from Early Childhood to 6thGrade and Special Education from Early Childhood to 12th Grade.
During her time in Texas, Ms. Alexopoulos worked as a General Education and Special Education teacher in the public school system where she primarily worked with students on the Autism Spectrum and students with developmental disabilities. Other than her special education experience Ms. Alexopoulos worked in a kindergarten classroom and gained experience teaching all subjects in a general education classroom.
After living and working in the United States for several years she decided to return to Greece and work as a Kindergarten teacher at a bilingual kindergarten. As she considers ACS Athens her home she is now back as permanent substitute for the Elementary school.
email: alexopoulosa@acs.gr