Papadakis, John, Director of Enrollment Management & Technology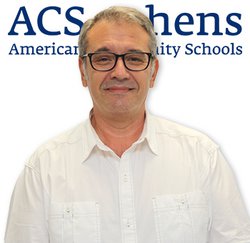 John Papadakis is the Director of Enrollment Management and Technology at ACS Athens since 2006.
He's in charge of the operation of the Suheil Sabbagh Media Studio at the Learning Commons and is involved in the strategic implementation of the Media Literacy program and initiatives throughout the school.
Since 2021, he's a member of the executive team of ACSAthensGlobal, the official platform connecting the global alumni community of the school.
John Papadakis is the certified Data Protection Officer of the school (email: dpo@acs.gr) since 2018 overseeing the compliance of the school with GDPR. He received his DPO certification from TÜV Austria in 2018.
He has also served as the managing editor of the International Schools Journal, published by ACS Athens, between 2019 and 2023.
After 14 years in the United States, where he served the American K-12 education in different capacities as a Math teacher, educatiional technologist, tutor, and administrator, he returned to Greece with his family in 2001.
His academic studies include an Executive M.B.A. degree from the University of Indianapolis (Athens Campus), a B.A. in Communications/Electronic Media/Broadcasting from Columbia College Chicago, and an associate degree in Electronics Engineering from Triton College, IL. He has extensive experience in radio/TV production and has worked as an editor/staff writer in weekly ethnic newspapers based in Chicago, IL. John Papadakis was the Director of Communications and Operations of the Council of Hellenes Abroad (SAE) – North and South America Region, based in Chicago, from 1995-2001, covering and promoting the educational, civic and cultural activities of the ethnic Greek community on the American continent.
After his arrival to Athens in 2001, he was involved in technology projects as a training consultant and as a project manager in new media related projects (e-commerce, online Content Management Systems, web 2.0, etc.).
Previous business ventures include: a TV satellite company operating as a Dish Network dealer and distributor of Greek satellite TV channels in the Midwest; a weekly radio program promoting the activities of the Greek American community; and various business technology and communication consulting services to organizations and businesses in the Chicagoland area.
John Papadakis is a life-long learner, music lover and global minded citizen of the world.
email: papadakisj@acs.gr