Armodorou, Andriana, Middle School OLP aide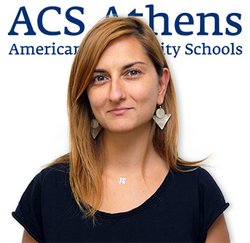 Ms. Armodorou holds a Masters in Health Psychology from Middlesex University in London and a Bachelor degree in Psychology at the University of Plymouth, UK. For her Master's placement, she worked as an advisor at Edgware Hospital in London and for her Bachelor's degree she worked for a year as a Support Worker at the National Center for Young People with Epilepsy and associated conditions in Surrey, UK.
She has been a member of ACS Athens since October 2019. She started as an Optimal Learning Program (OLP) testing supervisor making sure that the accommodations fit were in place for academic tests and assessments. For the past three academic years, she has been working as an OLP aide in class for Middle and High School helping students achieve their academic goals and work towards their independence. She has been in charge of the ISP (Individual Support Plan) service in OLP ensuring that teachers and students apply the accommodations granted.
Prior to ACS Athens, she worked at Broadfields Primary School as a Specialist Unqualified Teacher for children with Autism in a specialist provision within a mainstream school. She worked as an Autism advisor for mainstream children and offered children with low self-esteem Psychological Support to promote emotional and social balance. She also taught dance lessons using improvisation based on the curriculum for the mainstream children. She was the initiator for Autism Awareness across the mainstream school. She was trained in Macaton sign language and delivered sessions across the provision setting. She also introduced Reverse Inclusion to allow neurotypical children to explore Autism. She created and designed a sensory-friendly program delivered in a theme-based environment for children with Autism to meet their sensory needs, make them feel safe and regulated.
She worked at the Annunciation Catholic Infant School in London offering learning, emotional and speech/ language support to mainstream children who had a diagnosis.
email: armodoroua@acs.gr