Akrivou, Vicky, Faculty, Social Studies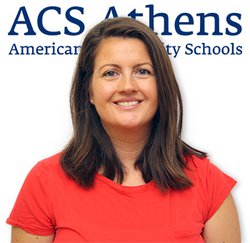 Ms. Akrivou has been working at ACS Athens since 2007 as a Social Studies Teacher in the Middle School. She has also taught Language Arts and English as a Foreign Language at ACS Athens.
Ms. Akrivou was raised in Chicago, Illinois. She earned a B.A. in International Relations with a minor in History from the University of Indianapolis. She then studied Political and Human Geography at King's College, University of London, where she received her Master's degree (MA) in Environmental Politics and Globalization.
She worked for a public relations firm and also worked for various English language institutions. Having also worked for various non-governmental organizations concerned with environmental education, she decided to officially enter into the field of education. She has been trained in the United States to teach and is certified by the State of Illinois. She completed her Master's degree in teaching at National-Louis University in Chicago. In addition to this, she was chosen to represent ACS Athens at the Spring 2011 NESA conference in Thailand. She served as the ACS Athens Division Chair of Social Studies & Arts JK-12 (2013-2014).
She is currently a seventh and eighth grade Social Studies teacher.
email: akrivouv@acs.gr