Stephanidou, Julia, Faculty, ESL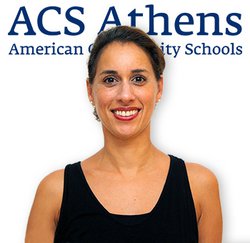 Julia Stephanidou has a B.A. in English Language and Literature from the University of Athens and an M.A. in World and Comparative Literature from San Francisco State University.
She has taught English as a Foreign Language and English as a Second Language at the elementary, middle, and high school levels since 2001 at private schools in Athens. She is particularly interested in English language acquisition at the primary stages of learning with a special emphasis on speaking activities. She has been working at ACS Athens since 2014, initially, as an EFL aide and, subsequently, as an EFL teacher.
Her experience in previous schools also includes coaching students of the Forensics Club, setting up lesson plans for the first and second-grade afternoon program, editing the elementary school magazine, and completing the Harvard online course "Visible Thinking". She also participated in a longitudinal growth plan that focused on the collection of data in order to better assess the needs and record the growth of the EFL and ESL population. Finally, Ms. Stephanidou has been teaching ESL at the Elementary School since September 2021, a position she very much enjoys since she adores teaching younger learners of English who are also beginners.
email: stephanidouj@acs.gr