Koutris, Ioanna, Faculty, 2nd Grade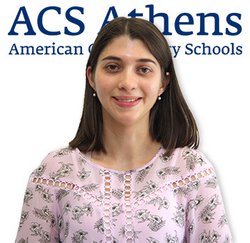 Ioanna (commonly known as Yianna) was born and raised in Bloemfontein, South Africa. She is a qualified educator with a TESOL accreditation and is registered with the South African Council of Educators. She completed her undergraduate Bachelor's degree in Education, specializing in Intermediate Phase (grade 4 to 7) at the University of the Free State, and holds a Master's Degree in Applied Language and Literacy Education from the University of the Witwatersrand (South Africa). Her research explored and compared how language structures and conventions were taught in the Intermediate Phase English Home Language classroom at a public and at an independent school in central Johannesburg, South Africa. The aim was to identify challenges and strategies in an attempt at promoting pedagogies that enhance the learning of language structures and conventions.
Yianna's career launched in 2018 where she completed her teaching practicum at Saheti School (a top independent school in South Africa promoting the ethos of Hellenism) and then continued to enhance her teaching experience at Curro School. Yianna's first year of teaching second grade at ACS Athens was in the 2022/2023 academic year.
Her passion lies in unearthing the potential of every student by further enhancing their self-awareness so that they become the best version of themselves as they navigate through the globalized 21st century. She has a key interest in creating out-of-the-box solutions and has dedicated her time in curating educational content for educators that would support them in enhancing the student's learning experience. In addition, she aided in the design of various resources that would provide additional support for students.
She takes pride in her specialization and not only keeps abreast with the trends within the field but is on a continuous journey to upskill herself by learning new skills that can complement her teaching style and uncover new interests. It is important in today's age to foster one's learning agility and she believes that one's curiosity and openness to learn continuously will determine how well one thrives in a world of constant change.
email: koutrisi@acs.gr