Kitsiou, Niki, Faculty, 4th grade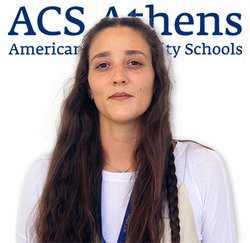 Niki Kitsiou received her B.A. degree in Elementary Education, Grades 1-6, from the University of Crete, Greece. She specialized in Special Education at the National and Kapodistrian University of Athens. She completed her M.A. degree in Language Education for Refugees and Migrants at the Hellenic Open University. Ms. Kitsiou is an ACS Athens alumni who attended from 10-12th grade on a basketball scholarship. She has worked as a teacher and a researcher with multilingual and multicultural refugee and migrant students in the context of refugee camps and NGOs. She has also worked for three years at ACS Athens as a Shadow Teacher, when she co-presented a workshop about sketch note-taking and the importance of differentiated material on childhood education, at the ECIS Conference in Luxemburg, in 2019. She enjoys creating educational content that adheres to those principles of visually stimulating information that increases the students' motivation and enthusiasm to participate and learn, while at the same time, students become encouraged to capture and express their own ideas this way.
Her philosophy as a teacher is to guide her students to learn to think critically, work collaboratively and act boldly. She looks at each student's needs, values their creativity and ways of learning, and wants to provide students with the freedom and the tools to co-construct their understanding of the world through dialogic and collaborative processes in an effort to become curious, caring, and kind individuals. As a teacher, her goal is to make sure that her students believe in themselves, embrace their uniqueness, respect each other's differences, and work together towards building a future that points the way to a more socially just world.
Being a 5th-grade teacher in the past has helped her have a solid understanding of where her 4th-grade students need to go. She is excited to be a 4th-grade teacher for another year and is confident she can support her students to reach their goals and have lots of fun along the journey!
email: kitsioun@acs.gr