Gennimata, Sofia, Faculty, ESL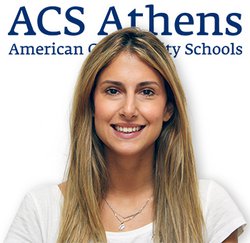 Sofia Gennimata was born in Thessaloniki, Greece and has lived most of her adult life in Athens, however her educational experience in Florida, U.S.A, during middle school was what shaped her life. Being an ESL student in Florida, she looked up to her teachers and that was when the spark of teaching ignited. Upon her return to Greece, she pursued a B.A. in English Language and Literature at the National and Kapodistrian University of Athens. At that time, she started working with students learning English as a second language. In 2016, she earned her M.A. in Developmental and Learning Disabilities from Deree - The American College of Greece, and she completed her Practicum as an intern in the Optimal Learning Program (OLP) at ACS Athens. She then joined the OL Program of ACS Athens working with Middle and High School students. She later worked in the Elementary School for three years as an OLP Specialist. Sofia then became a part of the ESL department in the Elementary, working with students in Grades 1-5.
In her work, Sofia assists students in reaching their true potential through differentiating classroom curriculum and accommodating resources based on student needs. She continues to expand her knowledge and dive deeper into education through participating in various courses and programs. She has attended courses on Differentiated Instruction in the Classroom, Conquering Behavioral Challenges, Inclusive Virtual Learning Practices for Diverse Learners, and ECIS Level 1 and Level 2 Certificate in Child Protection, among others. Sofia has also presented in the 2023 ECIS Inclusive Education Conference on the application of the Universal Design for Learning (UDL) in a multilingual classroom. Sofia has also completed the Wilson Reading System (WRS) Level I Certification and as a licensed Reading Specialist she is eager to apply this teaching approach to the ACS Athens population. Sofia is excited to be a part of the Elementary School faculty and apply her pedagogical knowledge in the ACS Athens ESL classroom.
email: gennimatas@acs.gr