Freliech, Lydia, Faculty, 2nd Grade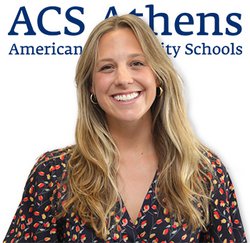 Lydia Freliech was born in Boston, Massachusetts, and raised in Connecticut. She completed her studies at Colorado College, earning a Bachelor of Arts Degree in Education with a minor in Art Studio. She spent one semester studying in Athens, Greece in the fall of 2015. Ms. Freliech's undergraduate thesis, titled "Culturizing the Self-Efficacy Beliefs of Elementary Students," highlighted her early dedication to understanding the complex dynamics of student confidence and cultural identity. In addition to her academic pursuits, Ms. Freliech also showcased her leadership skills as a NCAA Division III Women's Lacrosse Captain at Colorado College.
Ms. Freliech went on to earn a Master of Arts Degree in Teaching at Colorado College. Her thesis, "Empathy and Narrative Fiction: The Effects of Palacio's Wonder on Fourth-Grade Students' Empathy," demonstrated her commitment to nurturing empathy and emotional intelligence in young learners. Ms. Freliech's commitment to global education became evident during her Capstone Project in New Zealand, where she spent over two-hundred hours in Auckland Public Schools. Her action research on Culturally Responsive Teaching and its impact on indigenous Maori students resulted in a captivating short film that represented her findings.
Ms. Freliech began her career as a 4th grade teacher in the Denver Public Schools system. Throughout her five years in Denver's schools, she dedicated over 75 hours to coursework focused on educating Culturally and Linguistically Diverse students. She served as a mentor teacher, guiding teaching residents on their path to becoming professional educators. Ms. Freliech has participated in various training programs, including those centered on Culturally Responsive Teaching, the Science of Reading, IB concept-based teaching strategies, and data-driven instruction. She views her own learning through a growth mindset, and is eager to continue her professional growth at ACS Athens.
Ms. Freliech believes that each child is a brilliant and necessary asset to our community. She believes in co-creating a classroom environment that honors students' diverse cultures and learning styles, rigorously prepares students to meet the demands of our 21st century world, and empowers students to make transformative change in our global community. Ms. Freliech strives to guide each individual student as they develop their curiosity, academic and social confidence, empathy, skills and knowledge, and conscious citizenship in 2nd grade.
email: freliechl@acs.gr