Dimitri, Anna, Faculty, 3rd Grade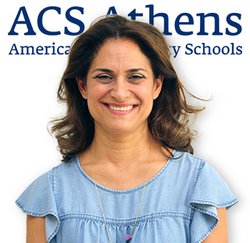 Anna Dimitri was born in Chicago, Illinois and lived there until her middle school years. She then moved to Greece with her family and attended ACS from where she graduated. She fostered a strong sense of community at ACS, a sentiment that she continues to hold until today.
Ms. Dimitri received her BA (Honors) in Psychology from Deree College and afterwards attended McGill University in Montreal, Canada. From there she earned a Masters in Education and eventually returned to Greece. She subsequently completed her teaching certification in Early Childhood to Third Grade from the University of Western Florida.
After completing her studies, she found her way back to the ACS family where she continues to grow as an educator through plentiful workshops and seminars. Ms. Dimitri has taught kindergarten at ACS Athens for twenty-two years and has truly enjoyed working with this unique, rewarding age group. Being a fervent child advocate, she continually keeps abreast of best practices in the classroom and related child care issues.
In her quest to grow as an educator, she attended the Annual Conference on Learning Differences held at ACS Athens, as well as the ECIS Conference. Additional professional development opportunities include AERO math workshops, the Reading and Writing Project Workshop, and multiple webinars focusing on hybrid learning techniques. Most recently, she participated in a Systems Thinking Workshop which is a transformational approach to learning, problem-solving, and understanding the world.
Ms. Dimitri excitedly begins her second year teaching 3rd grade. She is eager to continue working in the upper elementary and supporting students during this pivotal developmental stage.
email: dimitria@acs.gr