Dimas, Stavi, Faculty, 5th Grade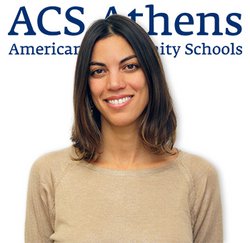 Ms. Dimas holds a Bachelor of Arts in Art History from the American College of Greece with High Distinction and a Master's degree in Museology from the University of Leicester with a concentration in Museum Education. Ms. Dimas received her teaching certification from the state of Florida, and has completed the educator preparation institute at NCATE, the accredited Professional Education Unit of the University of West Florida. Most recently she has been working towards a doctorate in Educational Leadership and Curriculum Development at the University of Glasgow. Prior to joining the ACS Athens Faculty, Ms. Dimas worked with school and family groups at the Hellenic Children's Museum in Athens, specializing in inquiry-based learning and constructivist teaching models. Ms. Dimas was born and raised in Washington, DC.
Ms. Dimas taught kindergarten for two years and third grade for three; this will be her seventh year as a fifth grade teacher. In addition to teaching, Ms. Dimas has contributed to ACS Athens across the grade levels. She spearheaded the 'iteach2' project together with Ms. Moros in the second grade, the Writing in Action workshop with Ms. Zavacopoulou for middle school students and the Architects of Global Conscious Citizenships Club with Ms. Rocha for fourth and fifth grade. For nine years, Ms. Dimas has served as advisor to the Forensics academic team, Group Discussion, working closely with academy and middle school students to realize their potential as conscious and active members of an ever-changing global community. She has also advised the ACS Athens Elementary School Honor Code Club and the Academy TED-Ed Club.
Ms. Dimas has presented at multiple workshops and conferences over the years. In 2013, she presented the 'iteach2!' initiative at the 8th annual Conference on Learning Differences (Innovative Teaching and Inclusive Learning) together with Ms. Sophia Moros. Ms. Dimas and Ms. Moros also represented ACS Athens at the ECIS Early Childhood Conference in Zurich, showcasing the implementation of 'iteach2!' as a learning tool in elementary school classrooms. In September 2015, Ms. Dimas was invited to speak at the Smithsonian Institute in Washington D.C. at the annual International Council of Museums Conference on Education and Cultural Action. Here, she shared her work on the implementation of informal education learning techniques as teaching tools in a multicultural classroom setting.
At the ACS Athens Colloquium in 2016, Ms. Dimas presented a Morphosis Talk together with Ms. Amalia Zavacopoulou. Under the heading of Teaching Writing to Think and Learn, she and Ms. Zavacopoulou analyzed the project "Making Stories at the Acropolis Museum," which they designed for the Academy Honors Humanities course together with Ms. Kathy Jasonides. The initiative merged the writing process, informal learning resources, the course syllabus, and student ingenuity.
In 2017, Ms. Dimas wrote an essay, "Improving Multicultural Learning through Interpretations and Interactions with Museum Educational Practice," which was published in the Journal of Visual Literacy. In 2018 she served as the guest editor for a double issue of the same journal. She has also completed the Critical Friends Group Coaches Training and is an accredited coach for the National School Reform (NSRF). The last five years, Ms. Dimas has been an internal coordinator for the ACS Athens Accreditation process, and most recently she has served as a team leader in the facilitation of the ACS Athens Conscious Citizenship school wide initiative.
email: dimass@acs.gr