Koufopoulos, Αngela, Faculty, ESL/EFL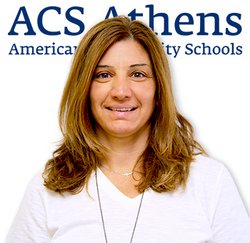 Angela Koufopoulos was born and raised in Chicago, Illinois. She has a Bachelor's Degree in English Literature and holds an Illinois Teacher Certification in Secondary Education (grades 6-12).Furthermore, she has a Master's Degree in Education in Teaching Language Arts.
Ms. Koufopoulos taught Language Arts to Middle School students for the Chicago Public School System for three years. However, as Greece had always had a special place in her heart, she decided to temporarily move to Greece to work and "live her Greek myth." Twenty-five years have passed and she is still here in Greece as marriage and the country's Mediterranean lifestyle conquered her.
Ms. Koufopoulos also attended the National Kapodistrian University of Athens and received the DIKATSA equivalency in English Literature and the DIKATSA equivalency for her Master's Degree. Ms. Koufopoulos has also taught English as a Foreign Language at Greek private schools and language schools in Athens at the elementary, middle and high school levels.
She joined the ACS Athens team in September 2021, as a Substitute Teacher and is currently teaching ESL in the Academy.
When time allows, Ms. Koufopoulos likes to travel, attend the theater, exercise and spend time with her three teenage sons.
As an educator, her most treasured inspirational message about children is:
A child is like a butterfly in the wind.

Some can fly higher than others,

But each one flies the best it can.

Why compare one against the other?

Each one is different.

Each one is special.

Each one is beautiful.

- Author Unknown
email: koufopouloua@acs.gr