Crain, Julie, Coordinator of Professional Development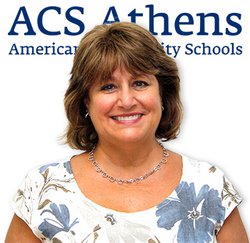 Dr. Julie Crain is an experienced administrator with over 30 years serving public and private education students and communities. She was formerly the ACS Athens Academy principal who returned to Kansas to finish retirement eligibility. During those three years she gained valuable, first-hand experience working with middle school students that she was able to offer to ACS Athens in the role of Middle School Principal.
Dr. Crain holds a Ph.D. in curriculum and instruction from the University of Kansas, and three additional academic degrees in education and liberal arts from accredited universities in Illinois and Kansas. She is a licensed teacher, principal and superintendent. Whether it is a student or teacher, getting to know the person is the key to understanding at what rates and styles they learn, according to Dr. Crain.
She is married for 37 years to Dr. Thimios Zaharopoulos who lives in Athens and they have two sons.
email: crainj@acs.gr