Apostolaki, Katerina, Administrative Assistant to the Dean of the Institute and the Director of Enrollment-Technology-Media Productions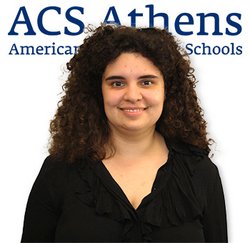 Ms. Katerina Apostolaki is an education professional with over seven years of experience in the EFL/ESL teaching and certification industry. Ms. Apostolaki earned a bachelor's degree in English Language & Literature from the University of Athens and a master's degree in International & European Studies from the same university. She also holds a CELTA certificate from British Council Greece and has attended several workshops in IB, digital learning and instructional design.
Before coming to ACS, Ms. Apostolaki taught a variety of age groups ranging from kindergarten to university students in Asia and Europe and worked as a Speaking Examiner for the British Council. Her interests lie in the learning technology, course engagement and e-learning training sectors. Ms. Apostolaki is an IATEFL member of the Learning Technologies and Business English Special Interest Groups as well as a volunteer Graphic Assistant for the IATEFL BESIG. Other than teaching, she specializes in records management, course administration, interchanges with diverse external audiences and public speaking.
email: apostolakik@acs.gr