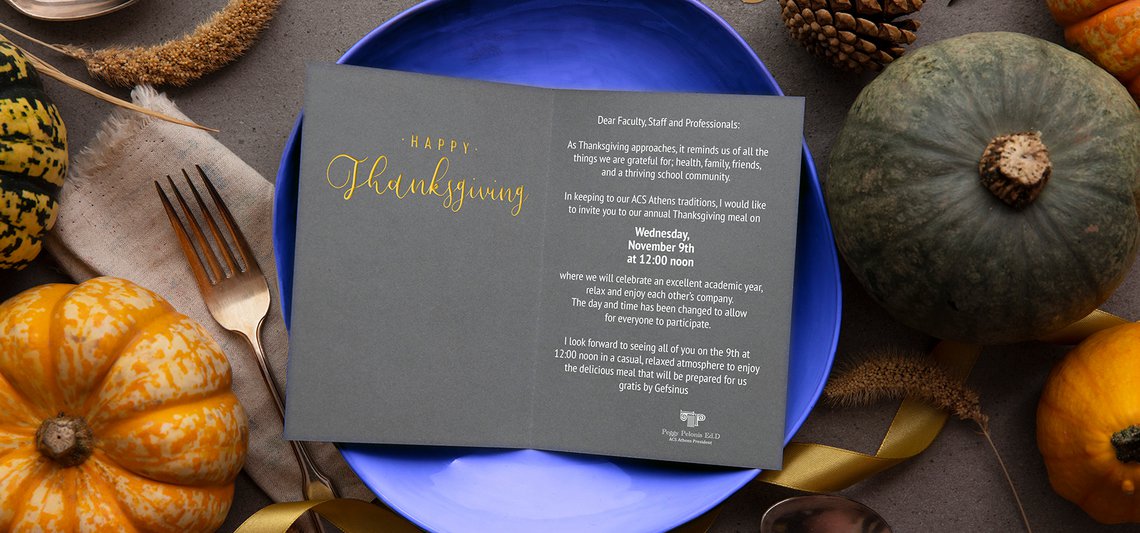 The 13th staff development day of the 2022/2023 academic year was on Wednesday, November 9th. It was a half-day dedicated to the Action/Evaluation Research projects that faculty and staff have been working on schoolwide.
The event began with a special Thanksgiving lunch for the entire ACS Athens community giving faculty and staff the opportunity to enjoy a wonderful meal together in a warm and joyous environment. The delicious meal was prepared gratis by Gefsinus.
Right after lunch, the entire faculty and staff gathered for selected Action/Evaluation research presentations in the theater. 
"This was an exciting day for ACS Athens as we were all able to step back and take some time. to not only be reflective practitioners but also to bond in this common experience. This event allowed us to focus on the most recent and relevant research currently available with the aim of informing our school-wide research design, goals, and specific AR/ER-focused questions".

- Mary-Ann Augoustatos, Director of the Learning Commons and the Co-coordinator of the ACS Athens Action Research
Teachers Teaching Teachers
Eight of our ACS Athens colleagues took the stage that day and presented their impressive and inspiring research. All of this work is an integral part of sustaining excellence at ACS Athens. 
The day's presenters were Mr. Michael Januzzi, Ms. Vicky Klimou, Dr. Jenny Grigoropoulou, Ms. Venie Gaki, Dr. Liana Tsigaridis, Ms. Katerina Saini, Mr. Christos Pakos, and Ms. Sophia Tsinakis. 
One excellent example is the ER question chosen by the EFL-ESL faculty.
Dr. Grigoropoulou and Ms. Venie Gaki provided some insight into what triggered their Evaluation Research question.
EFL-ESL ER Question: What are the major trends evident in the development of the new EFL-ESL program longitudinally since its restructuring in 2015 until the present that will help us further develop the program efficiently and effectively for our constantly changing population? 
"Our evaluative research is a longitudinal study portraying the profile and progress of ESL students K-12. As reflective practitioners, we guide our instruction by data collected and documented (MAP, WIDA, IELTS SCORES, grades, IB enrollment, college acceptances, nationalities, years in the ESL program, etc.) as well as, research conducted on global educational innovations relative to English as a Second Language instruction, student population changes, global societal transformations, language instruction misconceptions, and the approaches to second language acquisition (SLA), as well as ESL students' academic, social, and emotional needs. The presentation on our ER on November 9th was an opportunity to share our work, interventions, and best practices, which are guided by and conducive to the ESL institution goal: Best practices in mainstreaming ESL-EFL students through language development and content language integrated learning".

- Dr. Jenny Grigoropoulou and Ms. Venie Gaki
What was once a project that was met with reluctance is now a source of enthusiasm and pride.
We are ACS Athens, and being reflective practitioners and staying abreast of educational change is what we do.
A Happy Thanksgiving to All!