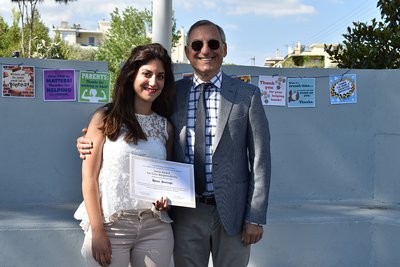 The ACS Athens Administration extended today a special "thank you" to PTO members, Board of Trustees members, all parents, faculty, and staff who supported and volunteered on behalf of the ACS Athens students during the 2019-2020 school year.
The ceremony took place on campus. Mr. Suheil Subbagh, Chairman of the Executive Committee of the Board of Trustees, opened the ceremony and together with ACS Athens President, Dr. Stefanos Gialamas, expressed his gratitude, especially towards the dedicated members of ACS Athens PTO Board: "ACS Athens values and appreciates the work and effort of all volunteers and with this opportunity we express our gratitude directly to the active members of the community for their generous assistance during the school year."
The current PTO President, Ms. Danna Barrage was presented with the Arete award for Civic Responsibility for her dedicated work during the 2019-2020 school year.