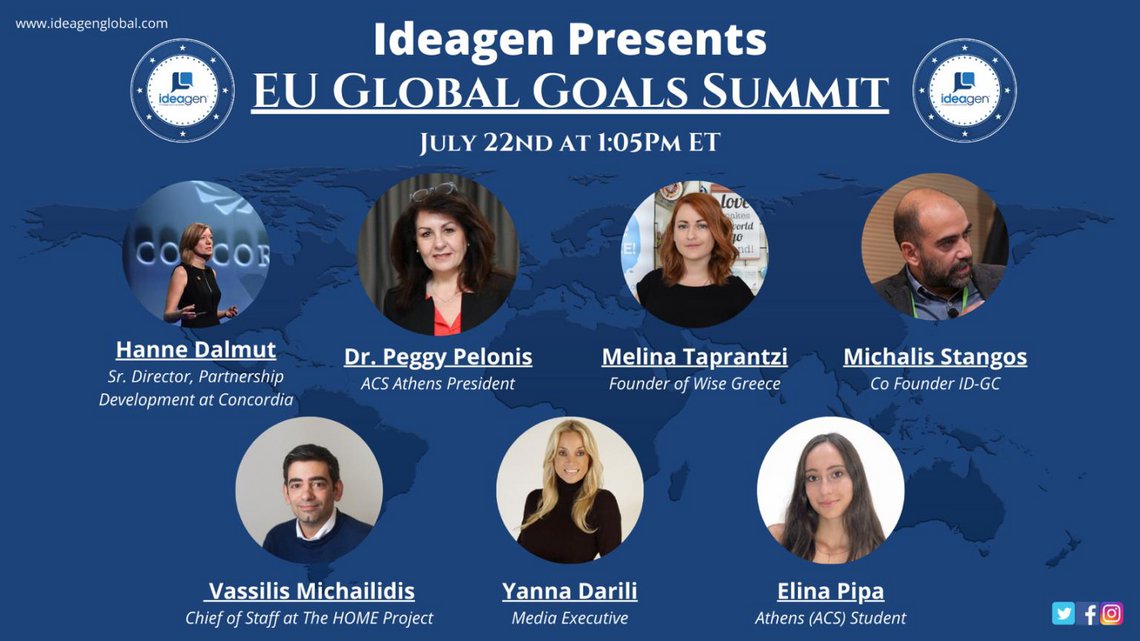 Organized by Ideagen, the "2020 Ideagen EU Global Goals Digital Summit" is addressing one of the most important issues of our time, as a distinguished panel of over 25 global leaders and luminaries will come together in a three-part summit to discuss ways of achieving the UN Sustainable Development Goals and how the EU is tackling the global issues.
In today's Part 1 panel, ACS Athens President Dr. Peggy Pelonis moderates and discusses the importance of making a social impact through entrepreneurship, relief work, community serving start-ups, communication, and volunteerism.
Apart from Dr. Pelonis, today's panel includes Hanne Dalmut - Sr. Director / Partnership Development at Concordia, Melina Taprantzi - Founder of Wise Greece, Michalis Stangos - Co-Founder ID-GC, Vassilis Michailidis - Chief of Staff at The HOME Project, Yanna Darili - Media Executive and Elina Pipa - ACS Athens student.
More than 20 million viewers are expected to attend and watch the 2020 EU Global Goals Digital Summit which will be live-streamed on Ideagen's Twitter, LinkedIn, Facebook, and YouTube.
Clich here for the full list of speakers and the schedule for the three days.
Join us today at 1:05 PM (ET) as the "2020 Ideagen EU Global Goals Digital Summit" by Ideagen kicks off!
We extend our sincere thanks to George Sifakis, Ideagen Global Chairman, Founder and CEO and the entire Ideagen Team for initiating and organizing the 2020 Ideagen EU Global Goals Digital Summit.