Zervas, Bobby, Faculty, Language Arts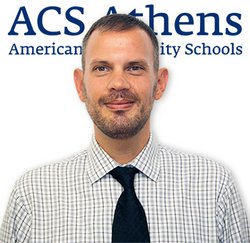 Mr. Bobby Zervas was born in Chicago and attended DePaul University. After receiving his Bachelor of Arts in English (2003), he started working as a law clerk and spent several years working in law. He thought about attending law school but realized it was not for him. In 2013, Mr. Zervas moved to Greece to pursue teaching and be closer with his family.
In the first two years at ACS Athens, Mr. Zervas assisted in the Writing/ Research Studio for elementary, middle school and academy helping students build grammar and vocabulary and develop writing skills through brainstorming, structure and research. He then began teaching language arts in Middle School. He has taught 6th, 7th and 8th grade, with a stronger focus on 8th grade. Mr. Zervas was also given the opportunity to co-teach in Combo 9 English. This was a memorable experience that allowed him to observe different teaching methods and work on aligning the 8th grade curriculum for students to have a smoother transition into the Academy. Last year Mr. Zervas taught Perspectives in Literature for 11th and 12 graders to further the continuation of aligning Middle School with the Academy. He also recently completed a Master's program in applied linguistics (2020). This year he will be teaching 6th and 7th grade language arts.
email: zervasb@acs.gr