Veloudi, Maria, Faculty, Greek Language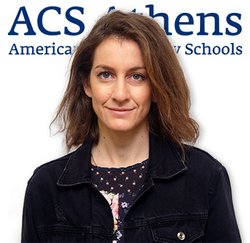 Maria Veloudi holds a Bachelor's degree in Pedagogy and a Master's degree in Educational Policy and Administration from the Philosophy school of the National and Kapodistrian University of Athens. She also holds a diploma in Special Education.
Before joining ACS, Ms. Veloudi taught Greek at the International School of Piraeus to both Greek nationals and non-Greek students, where she differentiated and tiered learning activities for all students. Prior to that experience, Ms. Veloudi worked at the Museum of Education, planning and delivering various learning activities for students of ages visiting the museum.
Ms. Veloudi is passionate about teaching and very excited to share her love of teaching and learning with the ACS Athens students. Ms. Veloudi will also continue teaching the Greek class for the Youth-to-Youth program and for the ACS Athens Virtual.
Ms. Veloudi successfully completed a 9-month seminar offered by the Aegean University on the subject: Greek as a Second/Foreign Language.
She recently took part in the Cultural Diversity Day project on Metaverse, a collaboration about SDG's between ACS Athens and Hisar School in Istanbul.
email: veloudim@acs.gr