Sotiropoulou, Evi, Faculty, Art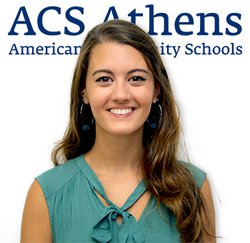 Ms. Evdokia (Evi) Sotiropoulou holds a Masters degree in Art Education from Teachers College, Columbia University and a Bachelor of Fine Arts in Illustration from the University of Massachusetts Dartmouth. She has a K-12 Visual Arts education licensure and certification from the state of Massachusetts.
Ms. Sotiropoulou was born and raised in Athens, Greece and moved to the United States in 2011 for her studies. She is an ACS Athens Alumni, attending the school from junior kindergarten to 12th grade.
After receiving her Bachelor's degree, Ms. Sotiropoulou worked as an art teacher at a Greek-American bilingual school in Arlington, Massachusetts and discovered her passion to teach art. She then decided to continue her studies and received her M.A. in Art Education from Teachers College, Columbia University in New York City.
This will be Ms. Sotiropoulou's sixth year at ACS Athens teaching 8th grade Design and 6-8th grade Art Studio.
Ms. Sotiropoulou's ultimate priority as an educator is to create a student-centered classroom, where her students feel comfortable to design and express themselves freely.
email: sotiropouloue@acs.gr