Sidiropoulou, Marianna, Faculty, Greek Language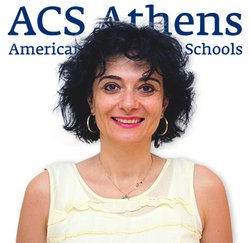 Ms. Marianna Sidiropoulou completed her studies at the National and Kapodistrian University of Athens and the Hellenic Open University. She graduated with a B.A. in Philosophy - Education - Psychology with a Major in Pedagogics and Teaching Methodology (UOA), a M.Sc. in Teaching Methodology and Assessment (OUA) and M.Ed. in Adult Education (EAP), both with Excellency. She holds a Specialization on "Teaching Greek as a Second/ Foreign language" (University of Patras), which she merged with a year Course (Aegean University), as well as Certificates in English, French Languages and Arabic (basic).
She has rich experience in the public and private sector in teaching Greek to native and non-native speakers for more than 20 years, the last 8 at ACS Athens, where she taught the Greek Language Arts Courses (6-9 grade), the Greek B in M.S. and the Greek Youth-to-Youth Program. As a Fellow at the ACS Athens Institute, she has completed the "ACS Athens Virtual School Training Program ", designed and taught the Virtual Course "Modern Greek Language and Mythology I". She is currently teaching Greek Language Arts 8 and Greek B Courses, where she brings Greek culture on the front. She also serves as co-advisor for the Chinese-Greek Intercultural Club to enhance student engagement in a multicultural environment and foster inclusivity. Teaching experience includes a position as a Lecturer at The Higher Military Educational Institutions and at the Higher School of Pedagogical and Technological Education as an academic associate on Teaching Methodology and Assessment, where she also conducts demonstrations to teachers so that they acquire the Pedagogical Competence.
Through enriching teaching experiences during her teaching career Ms. Sidiropoulou has published articles and educational books in Greek, French and Arabic; she has been an assessor of the Greek Language Center since 2009 and a certified adult trainer by the Ministry of Education. She attended a series of professional development opportunities and presented her work at a number of International and local conferences; she often contributes to ACS Athens Ethos magazine and co-authored the chapter "Middle and High School implementations of Moodle Facilitated Blended Instructional Designs" (2021 publication "Handbook of Research on K-12 Blended and Virtual Learning Through the i²Flex Classroom Model").
Ms. Sidiropoulou's goal is to support students with the essential resources and tools to foster independent learning and inspire self-reliance in them to evolve into reflective inquirers and advocates of Conscious Citizenship. She pursues any opportunity to optimize the learning process and student growth and success, while is a strong believer in lifelong education and personal development.
email: sidiropouloum@acs.gr