Perez, Maria, Faculty, Spanish Language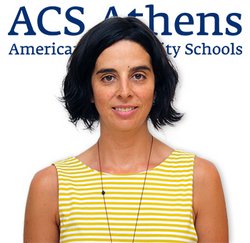 Ms. Maria Perez was born in Canary Islands, Spain and studied Fine Arts at the University of the Basque Country, Bilbao. Later she moved to Greece and in 2011 she graduated from the Department of Spanish Language and Literature from the National and Kapodistrian University of Athens, Greece with Honors. In 2014, she completed a Masters degree in "Teaching Spanish as a Foreign Language" at the Alcalá de Henares University in Madrid, Spain.
She has done various seminars on "Creative teaching to teenagers" and "Teaching Spanish as a Foreign Language" and has also received training to be an examiner at the Cervantes Institute examinations board.
As an educator she has experience working in private language schools in Athens, teaching Spanish to both teenagers and adult students (2008-2015), as well as an Art teacher in summer schools to children of different ages. She has been working in ACS Athens since 2015, and is currently teaching Spanish 1 & 2 in the Middle School and in Academy.
Ms. Perez's passion as an educator is to help her students find and explore their unique potential as part of the learning process. She also loves every expression of art and nature. Her goals for the future at ACS are to continue learning from her students using the I²flex methodology in order to motivate the students to work independently during the learning process, finding connections between cultures as conscious citizens of the world and exploring the potential of the AI applied to education.
email: perezm@acs.gr