Nikolopoulos, Andreas, Faculty, Computer Science Teacher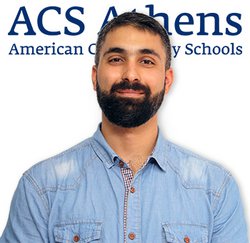 Mr. Nikolopoulos was born in Athens, Greece. He holds a Bachelor's Degree in Mathematics from the National Kapodistrian University of Athens and a Master's Degree in Computer Applications from the University of West Attica. Prior to ACS Athens, Mr. Nikolopoulos worked in various private educational institutions working with kids from ages 12 to 18. In addition, he worked as a professor at the University Independent Studies of Technology.
Mr Nikolopoulos will be teaching at ACS Athens for 4th year and he will be teaching Computer Science in grades 8 and 7 and Robotics in grade 6.
Mr. Nikolopoulos believes highly in meeting all students' needs while inspiring them to reach their full potential. Furthermore, he wants students to understand the importance of Computer Science and how this connects to their everyday life.
His interests include reading books, watching movies, and is a member of a Movie Club. Mr. Nikolopoulos is also a member of the Forest Fire Protection Volunteers and often acts as a volunteer guard on the mountain of Ymittos.
email: nikolopoulosa@acs.gr