Mologousis, Panagiotis, Faculty, Greek Language Arts, ACS Athens Virtual & Special Projects Coordinator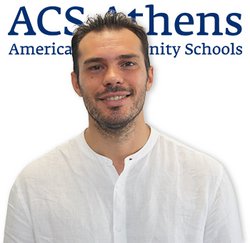 Mr. Mologousis is the ACS Athens Virtual Coordinator. He holds a bachelor's degree in History from the University of Athens, and a MSc in Management of Educational Organizations acquired from the University of West Attica, with honors.
A qualified secondary school philologist, Mr. Mologousis, teaches Greek at the ACS Middle School. He has taught at the Middle and High School level at Poukamisas Educational Group. He has written the History 7 and History 8 Course Companions for Poukamisas Educational Group.
Mr. Mologousis joined ACS Athens in 2018. He worked as the Academy Citizenship Coordinator (2018 – 2021), and the Middle School Citizenship Coordinator & Program Manager (2021 - 2023). He coordinated multiple projects, including the Virtual Classes Code of Conduct, the implementation of the automated attendance notifications, and the restorative circles intervention in the Middle School classes. Mr. Mologousis received the Arete Award (2020 – 2021) for the foundation of the Environmental Club, a recognition of his initiative to promote civic responsibility.
Mr. Mologousis embraces the holistic education paradigm of ACS and aspires to contribute to the school's vision to create responsible global citizens. His master's degree thesis is devoted to the concept of holistic education.
Additionally, Mr. Mologousis is actively engaged with Student Life as the Recycling Program Manager. Under his leadership, ACS has undertaken various initiatives. Highlights include participation in the first panhellenic recycling batteries competition (2nd place, 2021 - 2022), and registration to the Green City Program, delivering more than 2 tons of recyclable materials (2022 - 2023). In the past, Mr. Mologousis also served as an IB CAS Adviser (2019 – 2021) and has volunteered for the Part–Time Youth to Youth Program.
This is his sixth year in ACS, and his goal is to contribute towards a meaningful virtual and face-to-face learning experience.
email: mologousisp@acs.gr